Is UCF or FIU better? Rankings and Majors Reviewed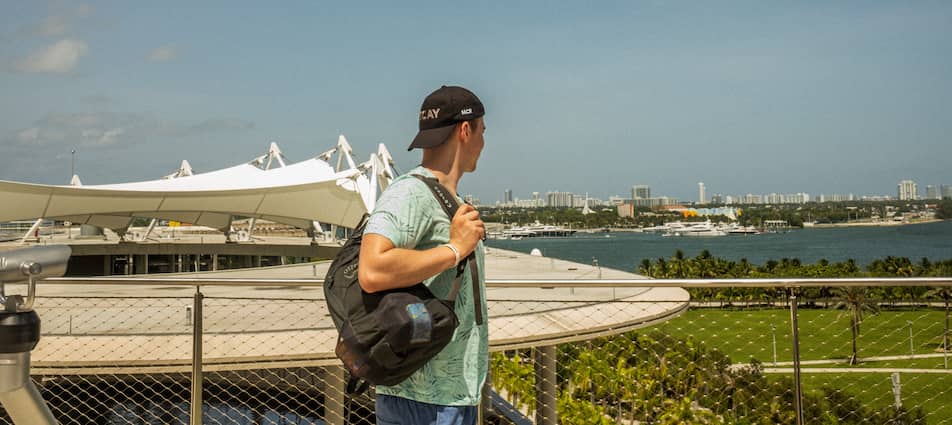 Is UCF or FIU better? These are two great and affordable public colleges, and we'll do our best to give you a thorough breakdown of the differences and strength of each college.
Based in Orlando, the University of Central Florida began training engineers for the growing NASA space program, and has since grown to become the biggest college in America.
Based in Miami-Dade County, Florida International University is another prominent university with a large alumni base in South Florida.
We'll look at general rankings first and then compare different majors and other differences between the two universities.
You can also check out other UCF college comparisons:
We also have more FIU articles here:
UCF and FIU General Rankings
Consensus rankings between the schools are very close, but on average UCF ranks higher than FIU in the four ranking publications we'll examine here.
U.S. News places UCF 137th in the nation overall, while FIU trails close behind at 151.
The battle is even closer in the Forbes rankings, where UCF is 119th and FIU is 120th. Forbes' methodology includes a lot of practical data points like alumni salaries, student debt, graduation rates, and return on investment.
While UCF beats out FIU by a hare, FIU alumni actually earn a little more, with the 10-year median salary at 101,500 compared to UCF's 99,200.
Money Magazine's methodology also factors in tuition, grants, and early career earnings for their rankings. Money ranked UCF 108th, and FIU 134th.
Washington Monthly takes a different approach with their rankings, examing "social mobility, research, and promoting public service". In these rankings, FIU finally gets a win, placing 32nd in America among national universities. UCF trails in the respectable 47th spot.
We were honestly surprised to see the two schools so close in these rankings, as UCF is a more selective when it comes to acceptance rates, GPA, and test scores.
Is UCF or FIU easier to get into?
U.S. News reports UCF's acceptance rate as 36%, and FIU's as 64%, so yes, FIU is much easier to get into! That is a shocking difference for two schools with such similar rankings, and especially considering the slightly higher average salary of FIU graduates.
The SAT and ACT scores follow the same trend. We'll compare the middle 50 percent of admitted students in these numbers.
In short, the University of Central Florida has significantly higher SAT and ACT scores for incoming students. With a range of 1170-1350 compared to FIU's 1060-1240, UCF students are over a hundred points higher than their FIU counterparts.
UCF students also come in with higher ACT scores, scoring between 25-30 compared to FIU's 21-27.
For more information on UCF admissions, you can check out our full article on the subject right here.
When looking at GPA, the schools even out with both averaging 3.9 for the freshman class.
So in summary, UCF is much harder to get into than FIU.
Is UCF or FIU better for business?
We place UCF higher than FIU in our rankings of the best colleges for business in Florida (spoiler: they place third).
However, location is paramount for business majors. If you plan to work in the Miami area after graduation, FIU is going to be a better option. Likewise, if you want to work near Orlando, UCF will be a better choice. If you're neutral about work location, we still give UCF the edge.
Is UCF or FIU the best choice for engineering and computer science?
When it comes to engineering, it's hard to compete with the university that was founded (in part) to train engineers for NASA.
While UCF has enjoyed quite the journey from commuter school to America's biggest college, its roots in engineering still show. In fact, we rank UCF first in Florida in our Florida engineering rankings, despite UF's stronger academic rankings in other disciplines.
So what about FIU? FIU isn't the best engineering school in the state, but they have 7 ABET-accredited programs:
Biomedical Engineering (BS)
Civil Engineering (BS)
Computer Engineering (BS)
Computer Science (BS)
Electrical Engineering (BS)
Environmental Engineering (BS)
Mechanical Engineering (BS)
Any ABET-accredited school is good enough to launch a successful career in engineering. If you want to study any of these 7 majors, FIU is a fine choice for engineering students.
UCF is a better engineering and computer science school than FIU, but a degree from either institution will command respect.
Is UCF or FIU ranked higher for psychology?
The universities tie at 140th in the U.S. News psychology rankings. With the overall ranking parity and the dead heat in psychology, it's a coin flip between UCF and FIU in psychology.
We'd recommend choosing based on something other than the program rankings in this case—your financial aid package, the campus vibe, etc.
You could also look into other colleges. The University of South Florida is known for psychology, and we also reviewed the top three colleges for psychology in Florida here.
Is UCF or FIU better for nursing?
UCF and FIU are both great schools for nursing, but we believe UCF is a slightly better choice. Nursing Schools Almanac reported the 10-year NCLEX averages for both schools. These averages are the success rates for nursing graduates taking the NCLEX for the first time.
While FIU's 10-year NCLEX average was a solid 89%, UCF blew them out of the water with a 96% pass rate.
With that said, 89% is still respectable, and more recent FIU classes have fared better, such as a 92.74% in 2019. With demand for nurses carrying strong, the career prospects for graduates of both UCF and FIU are looking very strong.
Is UCF or FIU ranked higher for biology and pre-med?
Both universities have medical schools, and FIU's Herbert Wertheim College of Medicine recently celebrated a 100% residency match rate for their 2023 medical school graduates.
U.S. News ranks UCF higher in the biological sciences at 144th in the country, while FIU is 203rd.
Neither of these schools are nationally renowned in biology, but both are strong programs. UCF might be a little better for biology and pre-med, but we'd suggest looking beyond the rankings for this decision.
Is UCF of FIU bigger?
As we've mentioned, UCF is the biggest college by undergraduate enrollment in America, with more than 60,000 undergraduate students.
FIU is a huge school as well, with more than 46,000 undergraduate students, but yes, UCF is bigger.
Is UCF or FIU cheaper?
For in-state students, the University of Central Florida's sticker price of $212.28 per credit hour is a little higher than FIU's $205.57 rate, but it's definitely worth applying to see how your scholarships and grant packages stack up at each school.
Speaking of scholarships and grants…
Does UCF or FIU have better scholarships and grants?
Money Magazine looks at scholarship and grant averages, and estimates UCF tuition after grants at $11,700 per year, and FIU at $9,500.
You can't know if one school's offer will be better without applying, so we do recommend applying at both universities. These grant averages are nothing more than averages—some students will get much more, and some much less.
With that said, Money estimates that you could save a couple grand a year by choosing FIU. As we've seen in this article, UCF is much more selective with acceptance rates, but is ranked only slightly higher than FIU in most majors.
UCF does have some sweet scholarships available, and we've actually reviewed the 5 best scholarships right here, including some bona fide full rides.