6 Full Ride Scholarships in Indiana Reviewed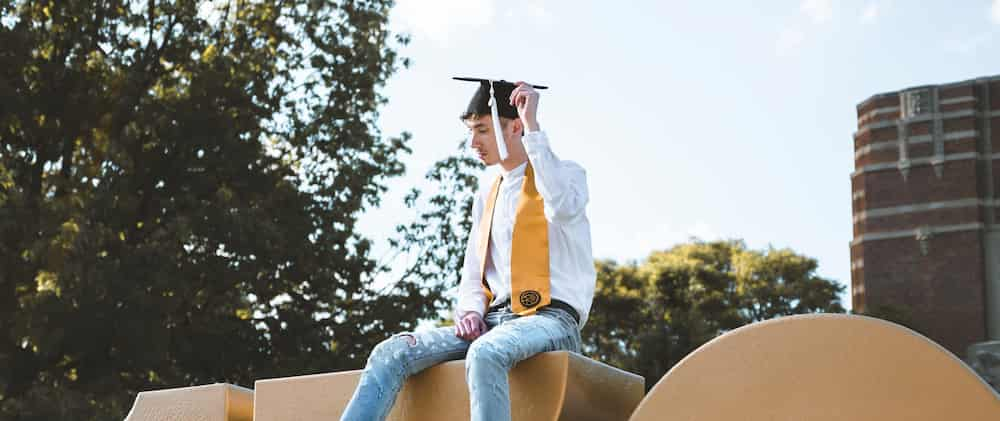 The best full ride scholarships in Indiana make a strong showing, with full rides offered by the Hoosier state's most prestigious public and private universities.
You can expect these full rides to go beyond full tuition to also cover fees, room, board, and sometimes more.
The most exclusive full ride scholarships also come with prestige and unique programs and experiential opportunities for awarded scholars.
If you're open to crossing state lines, we've reviewed the best full ride scholarships up north in Michigan and 7 more full rides in Wisconsin. Illinois also has 7 full rides at some prestigious universities in Chicago and elsewhere.
If you're looking for warmer climates, there are also:
Let's circle back to Indiana and review the sweet, sweet scholarships we found right here.
Full Ride Scholarships in Indiana
Before we get to the full rides, it's worth at least mentioning the full tuition scholarships that didn't make our list.
Grace College offers two President's Scholarships each year which cover full tuition.
Taylor University offers the Alice Hamilton Scholarship, which covers 100% of tuition. This scholarship involves a competition, and invitation requirements are a 3.7 GPA and a 30 ACT, 1360 SAT, or 92 CLT.
Finally, there's Rose Hulman Institute of Technology's Noblitt Scholars Program. The award amounts can range here, but Noblitt Scholars can receive up to full tuition.
At Rose Hulman, that's a pretty big deal, as Rose Hulman is one of the premier private engineering schools in the country.
Those great full tuition scholarships, but we're looking for more with the best full ride scholarships in Indiana.
Ball State University – Whitinger Scholarship
Ball State in Muncie isn't as prestigious as IU or Purdue, but it's not too far behind. The public university of over 15,000 students has a long history of launching successful careers, and the Whitinger Scholarship is Ball State's most prestigious merit scholarship.
This Honors College Scholarship combines with Ball State's Presidential Scholarship, together providing:
Full tuition
Required fees
On-campus room and board
That's a full ride, folks, and it's only available to 8 students within the Honors College each year, so you can expect plenty of competition.
Ball State also offers smaller scholarships, including the Dr. T.M. Anderson Scholarship which covers tuition and fees only.
There's also the Deborah S Wehman Scholarship and O.L. Strong Memorial Scholarship, which each cover 100% of tuition.
Ball State isn't a bad school, and the Whitinger Scholarship is a true full ride with four years of tuition, fees, room, and board.
It's very rare to find a full ride offered by a company rather than a university, but the Eli Lilly Endowment Scholarship does just that.
As one of Indiana's largest and most successful companies, Lilly offers these scholarships to "help raise the level of educational attainment in Indiana, increase awareness of the beneficial roles Indiana community foundations can play in their communities and encourage efforts of Lilly Endowment Community Scholars to engage with each other and with state leaders to improve quality of life in Indiana."
Here are the scholarship details:
Full-tuition, required fees and book stipend for four years. (Does not pay room, board or travel expenses.)
Recipients may attend any public or private, Indiana four-year college or university accredited by the Higher Learning Commission of the North Central Association of Colleges and Schools.
Applicants must have a high school diploma from an Indiana high school accredited by the State Board of Education or by a national or regional accreditation agency that is recognized by the State Board of Education.
Applicants must be residents of the state of Indiana.
Selection criteria, selection procedures and application due dates vary by county.
Recipients must pursue undergraduate study in a baccalaureate program on a full-time basis.
143 scholarships are awarded annually.
While this scholarship doesn't pay for room or board, it may be possible to stack with other local or school scholarships to get a full ride. We've written a guide on how to find local scholarships right here.
With 143 scholarships given annually, this also gives students a much higher chance of receiving the scholarship, as most university full rides are capped at a much lower number.
Finally, this generous scholarship pays for tuition at any public or private college with the right accreditation. IU and Purdue are great, but this opens the door to a full ride at any of Indiana's prestigious and expensive private schools, from Notre Dame to Rose Hulman to Taylor and more.
This isn't your typical full ride, and it's an awesome opportunity for students throughout Indiana.
Well, we've arrived at the most prestigious scholarship at Indiana's flagship university. The Wells Scholars Program at IU has it all.
Financially, Wells Scholarships cover "the full cost of attendance for a period of eight semesters of undergraduate study at Indiana University Bloomington", covering course loads up to 18 credits per semester.
This includes "a living stipend during the fall and spring sufficient to cover the cost of a standard double dorm room contract and a standard meal plan in the residence halls", regardless of whether students live on or off campus.
Wells Scholars work closely with a Hutton Honors College advisor to design their academic program, and there are also events and courses just for Wells Scholars:
"Freshman Scholars enroll in a program-specific seminar in fall and in spring. During the year, Scholars develop intellectual and personal bonds with their classmates while they read major works and discuss challenging ideas. Senior Scholars also have the option to take a spring seminar to wrap up their time in the program and at IU."
The academic guidance provided by IU has also led to many Wells Scholars winning recognition, including the following awards:
Rhodes
Truman
Marshall
Soros
Mitchell
Churchill
Gates Cambridge
Fulbright
Goldwater
The Wells Scholarship is a generous full ride with all the bells and whistles we look for in prestigious scholarships, such as mentoring, curated experiences, and exclusive courses and opportunities.
In the crowded field of full ride scholarships in Indiana, the Wells Scholarship stands out as a premier and exclusive opportunity.
IUPUI is going to become Indiana University Indianapolis, but it still has the same respected programs in the heart of Indiana's capital.
The most prestigious merit award at IU Indy is the Bepko Scholars and Fellows Program. Only 20 students receive this award every year:
"As the most competitive and prestigious award program in the IUPUI Honors College, Bepko Scholars are selected primarily for their demonstration of an outstanding commitment to service, in addition to academic excellence, integrity, and character."
The IU Indy Honors College offers some great resources to Bepko Scholars, including:
Personalized advising
Special programming
Exclusive living and study spaces
Financial support for study abroad
Additional funding in pursuit of experiential learning opportunities such as research, internships, service learning, and academic conferences
That's all on top of the core financial benefits of the Bepko Scholarship:
Full undergraduate tuition
Fees
Books
Two years of on-campus housing
Finally, Bepko Scholars can attend graduate school at IU Indy as Bepko Fellows, receiving an additional $5,000 a year scholarship for up to four years.
IU Indy is one of Indiana's most respected public universities, and the Bepko Scholarship offers great financial and experiential benefits.
Not to be outdone by IU, Purdue offers their own exclusive merit scholarship through the Stamps Scholarship Program.
Purdue's Stamps Scholarship pays for "the full educational costs of a bachelor's degree", which is usually code for the cost of attendance. Cost of attendance can include tuition, fees, room, board, and books.
Purdue's Stamps Scholarship also provides up to $10,000 in funding for enrichment experiences, which can include:
Summer research internships
Professional academic conferences to present research posters
Purdue study abroad programs
Unpaid internships or co-ops
It's an incredible full ride at a great school, and we didn't think it was possible to find a better scholarship until we saw the next Purdue full ride.
The Beering Scholarship takes full ride scholarships to the next level, as "recipients can pursue one bachelor's degree, one master's degree or an MBA and one doctoral degree at Purdue or medical school through Indiana University. The program also covers related educational expenses and a one-semester study abroad opportunity."
That's right, the Beering Scholarship covers full tuition, a semester abroad, and "related educational expenses" for a bachelor's degree, a master's degree, and a doctoral degree, which includes medical school.
The best full ride scholarships in Indiana can't measure up to Purdue's Beering Scholarship, which might just be the best full ride scholarship in America.
It's hard to follow up Purdue's Beering Scholarship, but Notre Dame's Stamps Scholarship still stands proud.
Ranked among America's top 20 universities, Notre Dame is a historic, prestigious, and (normally) expensive school.
With a Stamps Scholarship, you can keep the historic and prestigious aspects without paying a dime.
First, there's the core financial benefits:
Tuition
Fees
Estimated cost of books
Personal expenses
Transportation
Yep, that covers just about everything. Architecture students receive the benefits for five years, while others just get the full ride for four years. Do you suddenly feel a growing desire to study architecture, or is that just us?
On top of that, students receive $12,000 in enrichment funds for expenses such as:
Outward Bound
Study abroad
Unpaid internships and research
Leadership training
Conference fees
Travel
On top of the ridiculous financial benefits, Notre Dame Stamps Scholarship recipients can take advantage of:
Faculty advising
Intentional intellectual engagement
Special lectures and events
Peer support and interaction as part of a community of exceptional leaders in the Notre Dame Scholars' Program
While it doesn't cover medical school like Purdue's ridiculous Beering Scholarship, the Notre Dame Stamps Scholarship is one of America's premier full rides.
Seriously, this is one of America's most generous full ride scholarships at one of America's most highly-ranked schools. If you have a chance to receive the Stamps Scholarship at Notre Dame, don't look back.
Full Ride Scholarships in Indiana
Whew, well those are the best full ride scholarships in Indiana, and what a wild ride it's been.
We hope you've enjoyed our review, and we have more resources to save money and time during college, such as the 9 easiest CLEP tests.
If the scholarships don't pan out, some employers offer tuition reimbursement programs that cover 100% of tuition.
Thanks for visiting College Guidepost, and we wish you the best in your college and scholarship search. Go Boilers!