7 Full Ride Scholarships in Wisconsin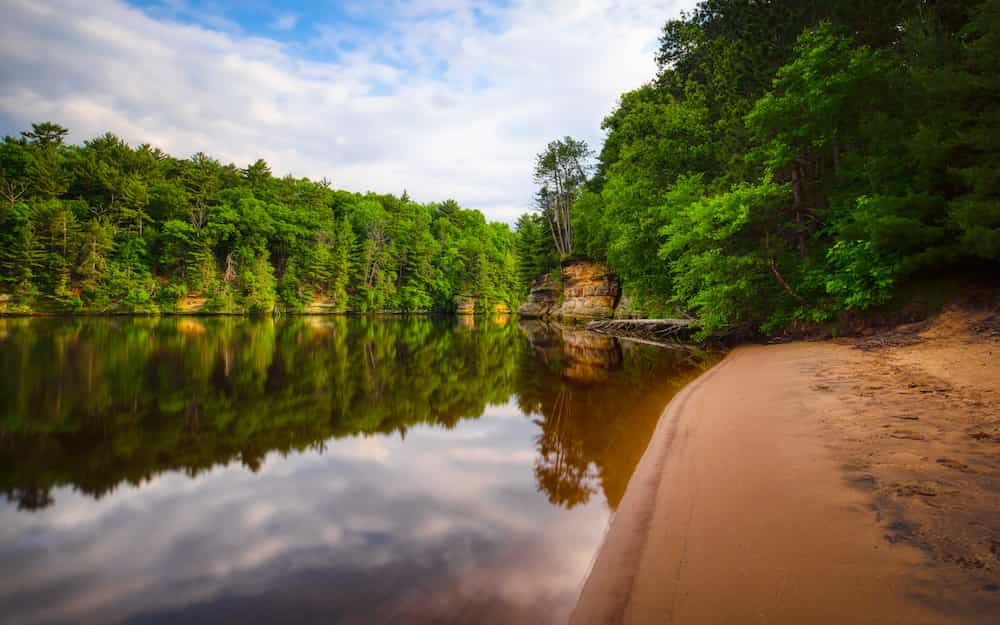 If you're looking for full ride scholarships in Wisconsin, we have good news for you. While they may not have 17 full rides available like North Carolina, Wisconsin does have a few great full ride scholarships that cover tuition, fees, room and board.
If you're open to attending college in a nearby state, we've also reviewed other full rides in these articles:
Indiana also has some impressive scholarships, including one full ride that pays everything from your freshman year through medical school.
All right, let's get back to Wisconsin and check out the great scholarships here in your own back yard.
Full Ride Scholarships in Wisconsin
Before we review the full ride scholarships in Wisconsin, we'll give a quick shout out to honorable mentions.
Madison Area Technical College doesn't have the full-ride merit scholarship offered by their Milwaukee counterpart. However, students with demonstrated financial need can look into the Scholars of Promise Program.
Fox Valley Technical College has undisclosed merit scholarships available, and also has the FVTC Promise to cover tuition and fees for those demonstrating significant financial need.
Madison College Scholars of Promise receive 6 semesters of fully paid tuition and fees. Those who transfer to UW Madison will also have their tuition and fees paid fully there.
The NWTC Promise Scholarship at Northeast WI Technical College is a similar program that can pay for full tuition and fees.
Private colleges can be harder to find scholarships for. Concordia University Wisconsin, for example, offers up to $15,000 per year through their Presidential Scholarship, but that's less than half of the annual tuition cost of $32,770.
Cardinal Stritch University is similar, with a Trustee's Scholarship of up to $24,000 per year, compared to annual tuition well over $34,000.
Viterbo University in La Cross does claim to offer up to full-tuition merit scholarships, though no further details are available online.
That's the case with a lot of these scholarships, especially at Wisconsin's technical colleges. If you're interested in one of these colleges, it's worth contacting an admissions officer to see if a full-tuition or full-ride scholarship package is available:
Chippewa Valley Technical College
Gateway Technical College
Moraine Park Technical College
Northcentral Technical College
Waukesha County Technical College
There are also merit scholarships at all of the colleges in the University of Wisconsin System.
UW Stout offers $5,000 per year through the Stout Scholars Program
UW Stevens Point offers the Presidential Purple and Gold Scholarships, worth $4,000 over four semesters
UW Green Bay has merit scholarships but does not provide details online
UW La Crosse offers Merit-Based Scholarships of varying amounts
UW Eau Claire's merit scholarships cover up to $8,000 per year
UW Whitewater offers merit scholarships and the King/Chávez Scholars Program, worth about $5,000 per year
UW Oshkosh offers merit scholarships of varying amounts
UW River Falls awards around $900,000 in scholarship funds each year, of varying amounts
While some of these colleges have great scholarships, we're just getting to the good part, with the best full ride scholarships in Wisconsin.
We'll start alphabetically with Carthage College in Kenosha. Carthage offers the Lincoln Scholarship, Clausen Scholarship, and Ruud Scholarship as part of their Presidential Scholarship Program.
While there are reports that Lincoln Scholars had received funds for room and board in the past, it seems that these three scholarships now only cover full tuition.
That's a $125,000 value, but it's still not a full ride, so you would have to supplement with other supplements or grants to get a full ride at Carthage.
It's the historic Marquette University that delivers the first true full ride scholarships through the Ann Kenny Carr Cristo Rey Scholarship and the Do Great Things Full Tuition Scholarship.
These are very specific, as the Ann Kenny Carr Cristo Rey Scholarship was "established to support one graduate of Cristo Rey Pilsen High School to attend Marquette University".
The award pays for full tuition and room and board for four years. If you aren't from the specified high school, you're out of luck on this one.
If you are, that's good news, as the field of competition for this scholarship is relatively small. It's still far from guaranteed, however, as only 1 scholarship is awarded per year.
The Do Great Things Full Tuition Scholarship is slightly less generous, covering 4 years of tuition but only two years of room and board (on-campus, standard double occupancy).
This is also very specific, requiring the recipient to graduate from Green Bay West High School.
While these are the only two full rides at Marquette, there are 6 more full tuition awards available:
Burke Scholars Program

Global Scholar (for international students only)
Herdrich Endowed Scholarship
Opus Scholars Program
Urban Scholars Program
Ronald E. and Kathleen M. Zupko Scholarship
These are generous scholarships at a highly respected university, as Marquette consistently ranks among the 100 best national universities in America.
Perhaps most impressive is Marquette's 12th place ranking for Best Undergraduate Teaching in the nation.
It's rare to see technical colleges with all-inclusive full-ride scholarships, so prepare yourself—you're about to see one.
The Checota MATC Scholarship pays for:
Tuition and course fees
Books and required equipment/supplies through the MATC Bookstore
Child care reimbursed through MATC Children's Centers or a state-licensed child care provider
Food through MATC Campus Meal Plan
Housing as available at MATC's Westown Green apartments
Transportation through MCTS U-PASS or MATC parking vouchers (for students attending classes at the Mequon Campus, additional options may be available due to lack of transit access)
We're satisfied when a full ride covers tuition, room, and board. MATC goes way beyond that with the Checota MATC Scholarship, covering fees, books, supplies, and even transportation.
Then there's the childcare reimbursement. We have never seen child care reimbursement included with a full ride before. It's the cherry on top of an already amazing scholarship—or maybe a whole basketful of cherries.
We've seen some great full rides here at College Guidepost, and the Checota MATC Scholarship stands tall with the best of them.
Wisconsin's flagship university offers some sweet scholarships, and we'll start with the Mercile J. Lee Scholars Program.
The Chancellor's Scholarship and Powers-Knapp Scholarship "were established to attract, support and develop the abilities and potential of academically talented and outstanding individuals from underrepresented groups".
As you can guess from this description, these scholarships are for students from underrepresented groups with academic merit.
The financial award is full-tuition (in-state or out-of-state), and a $400 per semester book stipend. That's less financially generous than many full rides, but at least covers more than tuition.
Outside of the money, this is a very well-developed program, offering unique student experiences:
Ongoing academic advising and individualized support services by program staff
Mentorship opportunities
A talented, supportive, and multicultural Community of Scholars who provide a strong peer support network at UW-Madison
Opportunities for leadership development
Ongoing social and volunteer opportunities
Monthly class meetings where Scholars build connections, discuss current issues, and develop their leadership skills
Monthly program meetings that feature "fireside chats" with distinguished faculty and staff
Special events that promote community-building and intercultural understanding
As you can see, the benefits of this scholarship program go far beyond the money. The Chancellor's Scholarship and Powers-Knapp Scholarship don't cover room and board, but these are still great scholarships at a nationally respected university.
UW Madison has also reportedly offered full-tuition scholarships based solely on academic merit, but there's no shortcut here. Unfortunately, you'll just have to apply and see what package they offer.
UW Milwaukee's new scholarship for graduates of Milwaukee high schools is pretty sweet. For up to five years, scholars will receive:
Full tuition
Fees
Room
Board
It's a bona fide full ride offered through the generosity of "UWM computer science alumnus and Microsoft Chairman and CEO Satya Nadella and Anu Nadella".
The scholarship takes academic merit and financial need into account, and is only for students in the following majors:
Applied Mathematics and Computer Science (BA)
Computer Engineering (BS)
Computer Science (BA or BS)
Data Science (BS)
Information Science & Technology (BS)
Information Technology Management (BBA)
As a generous and prestigious scholarship at a great university, and UW Milwaukee's Anu and Satya Nadella Scholarship is one of the best full ride scholarships in Wisconsin.
UW Platteville's Capstan Scholarship pays for full tuition, room, and board. This is a STEM scholarship aimed toward the following majors:
Accounting
Civil Engineering
Construction Management
Electrical Engineering
Engineering Physics
Environmental Engineering
Finance
Industrial Engineering
Mechanical Engineering
Pre-engineering
Software Engineering
While UW Platt doesn't have the same prestige as other campuses like Milwaukee and Madison, this is still a great full ride scholarship at a great public Wisconsin university.
UW Platteville also has a Chancellor's Scholarship which pays 100% of tuition.
Full Scholarships in Wisconsin
The best full ride scholarships in Wisconsin are pretty limiting in terms of eligibility, with few awards based purely on academic merit.
However, you can always bolster your school's scholarship with private funding, and we've written a guide on how to find local scholarships in your area that may have less competition.
You can also look through our rankings of the 9 easiest CLEP exams, as these can save both time and money.
Tuition reimbursement is another avenue for college aid, and some companies have generous and well-developed programs. We've reviewed the 8 best tuition reimbursement programs here.
Thanks for visiting College Guidepost, and we wish you the best in your journey!