Is UF or FSU better? Rankings and Majors Reviewed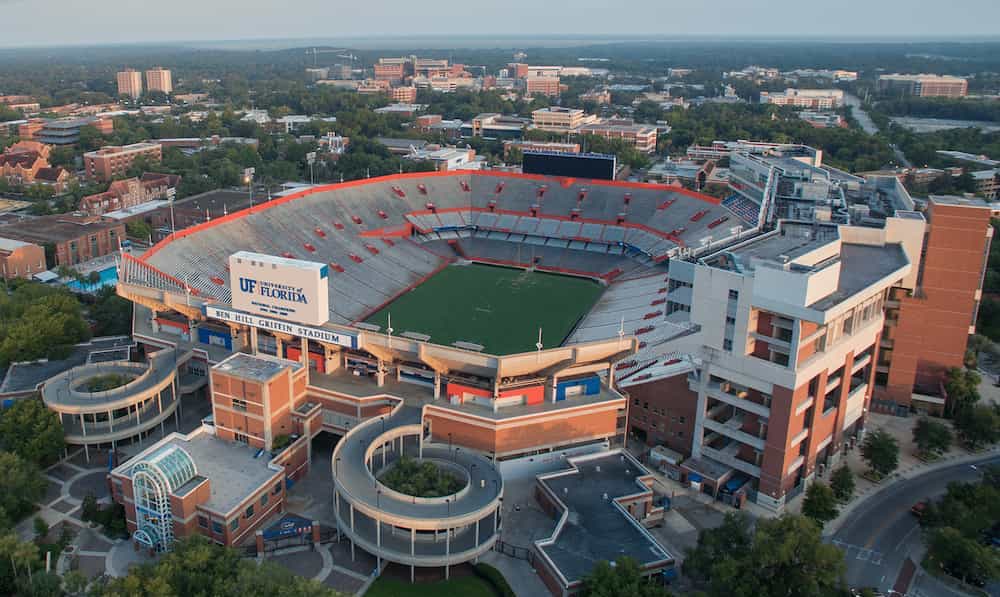 Is UF or FSU better? These public universities are at the top of Florida's overall rankings in almost every subject.
Despite challenges from other public universities—notably the University of Central Florida in engineering fields—it's UF and FSU that struggle for the top overall spot among Florida's public colleges.
The University of Florida is located in Gainesville, with FSU 2-3 hours to the northwest in the capital city of Tallahassee.
Before we get to the rankings, you can also view other comparison articles on UF here:
And here are our comparison articles for FSU:
UF and FSU General Rankings
Taking the average of four major rankings, FSU comes in 78th nationally. There are a lot of universities in the country, so that's a very good rank, but UF is even higher at 24th.
Starting with U.S. News, FSU gets a ranking of 55th, while the University of Florida places 29th.
The next ranking source is Forbes, which looks at data including student debt and early salaries to rank colleges that are a good investment.
Forbes looks kindly on both colleges, with UF coming in 26th and FSU placing 67th.
In 10-year median salaries, Forbes says that UF graduates earn $117,300 compared to $105,400 at FSU. Those aren't vastly different, but a twelve grand difference is nothing to sneeze at.
Money Magazine also ranks colleges with an eye on the financial return (no surprise there).
Money puts a bigger difference between the two proud institutions, with FSU in 89th and the University of Florida taking the 8th spot in the nation.
The final source we'll look at is Washington Monthly, which rewards universities that do research and make a positive difference be enabling social mobility.
In the Washington Monthly rankings, UF is 33rd and Florida State falls to 102nd.
In summary, both programs are ranked very well, taking home the best marks of all public universities in Florida. However, UF does rank higher than FSU by a significant margin.
Is FSU or UF easier to get into?
Both schools are highly selective. Florida State only accepts 37% of students, while UF is even lower at 30%.
That difference holds true looking at standardized test scores for the two schools as well.
On the SAT, we'll look at the range from 25th to 75th percentile, reflecting the scores of the middle half of admitted students.
FSU students ranged 1180-1340 on the SAT, with UF students ranging from 1300-1470. That's a difference of well over a hundred points.
On the ACT, FSU students ranged from 26-30, and UF students scored between 29 and 33. That puts the difference between the admitted students at 3-4 ACT points.
Both schools are among the most selective public colleges in Florida, but FSU is a little easier to get into based on admission rates and incoming test scores.
Is UF or FSU better for business?
Based in Tallahassee, FSU has a long tradition of business excellence, with some very impressive national rankings for its business majors:
#1 in Risk Management & Insurance
#5 in Real Estate
#16 in Management Information Systems
#17 in Marketing
#22 in Management
#24 in Accounting
UF also has its share of national accolades:
#4 in Real Estate
#7 in Accounting
#8 in Marketing
#8 in Finance
#13 in Undergraduate Business (Overall)
It's a fierce battle, but UF takes the narrow victory in our rankings of the best colleges for business in Florida.
UF is arguably better for business majors than FSU, but business is a huge strength of both schools, with both winning national accolades.
If you want to work in Tallahassee or just prefer FSU, it's hard to go wrong either way.
Is FSU or UF the best choice for engineering and computer science?
Florida State has some great engineering programs, and this is a field with more similar outcomes for graduates of different universities.
ABET accreditation is a key thing to look for if you're considering engineering, and FSU has 6 options with full accreditation:
Chemical Engineering (BS)
Civil Engineering (BS)
Computer Engineering (BS)
Electrical Engineering (BS)
Industrial Engineering (BS)
Mechanical Engineering (BS)
With that said, this is a field where UF takes the clear win in the rankings, even though they didn't quite take first place in our Florida engineering rankings.
UF also has more than twice the options in engineering, with 13 engineering degrees available at the undergraduate level.
Is UF or FSU ranked higher for psychology?
Psychology is a field where the two schools have even more parity, with Florida ranking 39th and Florida State in the 62nd spot.
Both schools place in our top three for psychology majors in Florida, so it's hard to go wrong as a psychology student.
We'd encourage you to make the decision on more factors than the rankings here, as the two universities are ranked so closely.
Is FSU or UF better for nursing?
In today's job market, nurses from both schools are going to be finding jobs, and likely getting paid the same amount.
In terms of ranking, UF has the edge again with a national ranking of 22nd compared to FSU's 67th.
NCLEX pass rates are another very important statistic. Nursing Schools Almanac puts the 10-year first-time pass rates at 93% at both schools.
Officially, UF takes the win here. Unofficially, you're likely to find very similar employment opportunities after graduating from either school, so we'd recommend basing your decision off other factors.
Is UF or FSU ranked higher for biology and pre-med?
Coming in at 50th (UF) and 80th (FSU), both schools have nationally ranked biological sciences programs, with a UF degree again slightly more prestigious.
Biology and pre-med is a strength at both schools, so once again it's hard to go wrong.
Is FSU of UF bigger?
FSU and UF are even closer in size than they were in the rankings.
UF has around 35,000 undergraduate students enrolled, so it's a little bigger than FSU's 33,500.
Is UF or FSU cheaper?
The in-state tuition rates are so similar that the major differences are going to come down to your scholarship and grant packages.
Money Magazine actually estimates that the University of Florida is significantly cheaper after aid, at $10,600 a year instead of $13,500 at FSU.
As the higher ranked university with better aid, the University of Florida is looking pretty attractive.
We've also written about the 9 best UF scholarships here, and some cover tuition, room, board, and even international summer experiences!
We should note that these are estimates and averages, and there's no way to know your aid package without applying to both schools.
In your case, it's possible that you'll get a much better offer from FSU, so it's worth applying to see the offers.
Thanks for visiting College Guidepost, and we wish you the best in your journey!