3 Full-Ride Ohio State Scholarships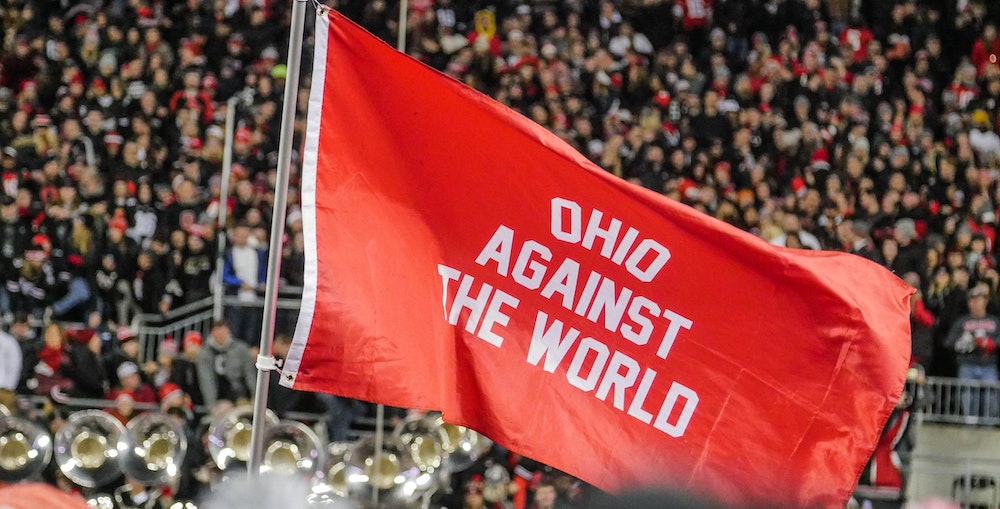 Three full-ride Ohio State scholarships can cover the entire cost of attendance at one of the most storied universities in the U.S. Established in 1870, Ohio State ranks 17th nationally among public universities, with an even better reputation in academic research.
Among public universities, Ohio State has been ranked in the top ten nationally for both innovation and undergraduate teaching. They also ranked first in the nation in the number of Fulbright Scholars produced, and for their online undergraduate programs.
Ohio State's strong reputation goes far beyond the state of Ohio, so it's a great choice for prospective students, but there's still that small matter of paying the tuition bills. While the in-state tuition rate is under $12,000 a year, that still adds up, and out-of-state students will pay over $32,000!
Our guess is you'd rather pay nothing, and have your fees, books, room and board paid for too. We won't judge you for being a little greedy, and we will give you three ways to snag full-ride Ohio State scholarships!
Full-Ride Ohio State Scholarships
The premier academic scholarship at Ohio State is the Eminence Fellows Program. Students in any major can apply, as "fellows are selected based on outstanding potential". What does that mean practically? Ohio State gives three criteria.
The first is academic strength, as they require a top 10% high school class placement, a good GPA, good SAT or ACT scores (even though those are officially optional), and "curiosity as demonstrated by research or equivalent experiences".
The second category they consider is service. Specifically they are looking for:
Demonstrated commitment to a cause, program, issue, or idea
Demonstrated commitment to improving life for others
Finally, there's communication. That includes a 2-minute YouTube introduction—yikes! Even if that seems daunting, two minutes of suffering isn't so bad compared to winning tens of thousands of dollars in scholarship cash!
Then there are the multiple application essays, but don't worry. We've got you covered with 15 steps to writing the perfect scholarship essay.
The scholarship committee will also consider the following four factors:
Service that extends beyond high school organizations and clubs
Leadership that threads through academics and service
Depth and breadth in involvement, experiences, and leadership
Collaborative spirit and teamwork-inspired experience
Now for the amount. If you can make it through the gauntlet, the Eminence Scholarship covers the "full cost of attendance at Ohio State for eight semesters of full-time enrollment, plus an enrichment grant valued at up to $3,000 accessible after the first year of successful study."If you're unfamiliar with this phrase cost of attendance, here's what it means: full tuition and fees, room and board, books, supplies, and other expenses.
That right, the Eminence Fellows Program looks pretty sweet on a resume, and more importantly, it's the most prestigious of the full-ride Ohio State scholarships.
As opposed to the more academically-focused Eminence Fellows Program, the Morill Scholarship Program is focused on developing Ohio State's campus diversity. The program "seeks academically talented high school seniors who will contribute to campus diversity and actively engage as advocates and champions of diversity, inclusion, social justice and academic excellence on campus".
The scholarship page states that they're looking for students who are already taking leadership roles in advocacy, so if that sounds like you, definitely fill out an application!
There are three levels of the Morrill Scholarship. The Excellence level covers in-state tuition (for Ohio residents), the Prominence level covers out-of-state tuition, and then there's the Distinction level, which covers the full cost of attendance (COA). That's right, it's another potential full ride for both in-state and out-of-state students!
The Land Grant Opportunity Scholarship is only available to Ohio residents, and it's the third and final full-ride Ohio State scholarship.
This award goes to "students who are Pell-eligible and demonstrate academic merit". An impressive 176 awards are dished out annually, and they try to select two students from each county. If you live in a sparsely-populated Ohio county and meet the requirements, this could be your best shot at a full ride to Ohio State!
If you're not among the fortunate few to earn a full-ride at Ohio State, we've got you covered with the best scholarship search engines to find private scholarship (available for any college). Better yet, you can improve your chances of taking home the cash by finding local scholarships with less competition.
With the rising costs of tuition, our goal is to help you find the scholarship cash you need, and we wish you the best in your educational journey!