FIU Scholarships • 4 Full Scholarships at Florida International University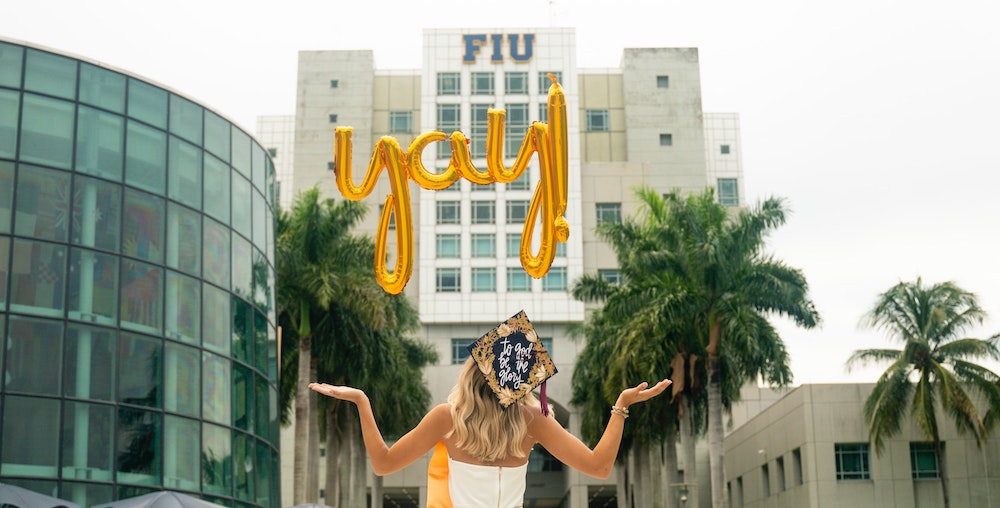 FIU scholarships are headlined by four full-ride or full-tuition opportunities that will pay for your full tuition, fees, and more in some cases. That's a big deal, because FIU is a great college.
Located in Greater Miami, Florida, this public university enrolls a student body of around 54,000, and there's a reason for FIU's growing popularity among students. Their international business program has been ranked 2nd in the nation, and their finance and pre-law programs are also well-recognized.
Before we get into the full scholarships offered by FIU, let's spend a moment swimming with the smaller fish. Every dollar counts when it comes to college tuition, and FIU offers an impressive 50 smaller scholarships which mostly range from $1,000 to $5,000. A handful of these scholarships, however, will cover a much bigger chunk of tuition, and you can check them all out here.
With that covered, let's take a look at the biggest academic scholarships offered by Florida International University.
Full Tuition FIU Scholarships
As you might guess, this is the premier academic scholarship offered by FIU that doesn't require students to be National Merit Finalists. However, the requirements are still steep. You'll need a 4.0 GPA (weighted) just to apply. If you can jump that high hurdle, you'll also need a "1370 SAT Score or 30 ACT or Top 5% of a Florida Highschool Graduating Class".
Just a few points shy on your SAT score? Check out our guide on how to improve your SAT score, with tips to study efficiently to improve your score.
If you do qualify for the Presidential Premier Scholarship, you'll still have send in two letters of recommendation with your application. You'll also need to write a 500-word essay about "a book that made a lasting impression on you and your life and why".
If you've managed to qualify for this exclusive scholarship, then your essay game is probably pretty good already. You can also check out our guide with 15 steps to writing great scholarship essays.
The good news is that these national recognition programs offer even more college cash than the Presidential Premier Scholarship. The bad news is, you have to qualify for the Presidential Premier Scholarship just to apply!
If you meet those strict GPA and standardized test requirements and qualify under Collegeboard's National Recognition Programs (African American, Hispanic, Indigenous, or Rural and Small Town Recognition), you can receive full tuition as well as a "stipend for books and $1000 stipend towards meal plan each semester".
This full scholarship is worth an extra $12,000 or so over four years compared to the Presidential Premier Scholarship, which is nothing to sneeze at.
The scholarships are getting bigger, but the requirements are getting steeper too. As you guessed by the title, this scholarship is only open to National Merit Finalists.
These students must also "qualify for Presidential/Ambassador scholarships" and be selected as a finalist. The scholarship provides "full tuition, fees, room and board, up to the cost of attendance". That's right, it's a truly full ride, covering the entire cost of tuition, fees, books, room, board, and more.
It's a full ride at a great school, and that's why we ranked it 6th nationally among schools offering full rides to National Merit Finalists. You can check out the full top 10 list right here.
We'll close it out with another full tuition scholarship, but this one is only open to Florida residents. Funded by Florida lottery purchases, this scholarship was created to help high academic achievers pay for college. You can find more information at the website linked above, but here's the summary. The top level of the Bright Futures Scholarship pays 100% of tuition and fees, including 100% of any summer courses students decide to take.
It's not a full ride, but it is a full tuition scholarship. The Bright Futures Scholarship rounds out the four full-ride and full-tuition FIU scholarships. The competition is tough, but the scholarships offer an incredible opportunity for those who are able to qualify.
We hope you enjoyed this article on the best FIU scholarships, and we've got more articles to help you claim that sweet scholarship cash. The 14 best scholarship search engines can help you find private scholarships that are a great fit for you, and you can use those scholarships at any college in addition to your college-specific scholarships.
Better yet, check out 8 ideas to find local scholarships, which often have fewer applicants. That gives you a higher chance of taking home the prize so that you can enjoy a great university without the stress of student debt.