Best UC Schools for Nursing • 6 BSN and MSN Programs Ranked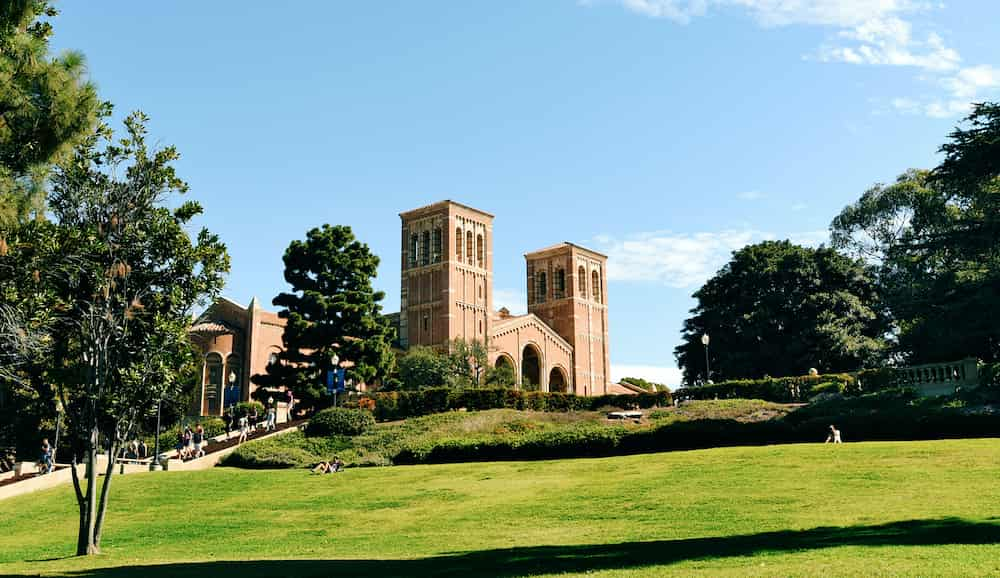 The Best UC Schools for Pre Med and Biology
In considering the best UC schools for nursing, we'll look at both BSN and MSN programs offered by colleges in the University of California system. For each program, we'll look at NCLEX pass rates along with the distinctives and reputation of each school.
The bad news is, several UC schools don't have any nursing programs. UC Merced, UC Riverside, UC Santa Cruz, UC Santa Barbara, UC San Diego, and UC Berkeley do not offer BSN or MSN nursing programs. Two others only have MSN programs, with no undergrad options.
The good news is, every UC school with a nursing program has earned a ranking among the nation's top 50 nursing schools.
The other good news is, there are even more Cal State schools with great nursing programs, and we've ranked all 22 of those here.
Before we get into the rankings, we should note that our rankings don't take into account the school's locations, tuition, and financial aid. With nurses expected to be in high demand for years to come, college rankings are not the most important factor to consider for nursing students.
The rankings are honestly more important for other majors, such as business and medical school (see our UC medical school rankings here).
A good education as a nurse is of course important, and passing the NCLEX is essential, but outside of that, it's important to consider other factors such as college debt, the campus environment, etc.
Colleges often have close connections with local hospitals as well, so the location where you want to work after graduation is also something to consider.
All right, let's dive right in and review the best UC schools for nursing!
The UC Davis Betty Irene Moore School of Nursing offers an 18 month MSN program, consisting of six consecutive quarters with no summer breaks. Students study Monday through Friday at the school's Sacramento location.
The program is led by the Nursing Science and Health-Care Leadership Graduate Group, with 55 faculty from various health disciplines.
The school's core values are:
Leadership development
Interprofessional and interdisciplinary education
Transformative research
Cultural inclusiveness
Innovative technology
The average first-time NCLEX pass rates of the past five years' classes are just over 81%, but the most recent class had an 87.50% pass rate.
UC Davis MSN program also ranked 23rd in the nation (U.S. News) and offers a PhD program, a nurse practitioner program, and a physician assistant program.
UC Irvine does offer both BSN and MSN programs. They offer hands-on opportunities for clinical practice, with over 50% of placements at the UC Irvine Medical Center.
Students can also expect modern simulation equipment, leadership and career preparation, and a broad base of knowledge as "biological, social, behavioral, medical, pharmaceutical and biomedical sciences are threaded throughout the curriculum".
UC Irvine's BSN and MSN programs have ranked among the top 50 nationally. Averaging the first-time NCLEX pass rates of the past five years, UC Irvine stands at 92% (BSN) and 96% (MSN). The most recent MSN class had a 100% first-time pass rate.
The accelerated 2-year MSN program boasts small cohorts, high-tech clinical simulation, clinical rotations throughout UCI Health, and a concentration in Community and Population Health.
2. UCLA – BSN and MSN
The graduating classes of UCLA's BSN program have averaged an over 95% pass rate on the NCLEX over the past five years, while the MSN average stands just under 90%.
The BSN program is a capstone major at UCLA, which means that each student completes a Clinically-based Scholarly Project during their senior year.
The 2-year MSN program includes summer study between the first and second years.
U.S. News has ranked UCLA's nursing programs among the nation's top 15, so you can expect modern classrooms and technology, research opportunities, and everything you'd expect from UCLA.
For more information on the UCLA programs, you can check out this promotional video by the school.
UC San Francisco is dedicated exclusively to the health sciences, and the pride of the UC system in both health research and clinical practice.
UC San Francisco doesn't offer undergraduate degrees, so it's not an option for BSN students.
They boast an 89% NCLEX pass rate, and are the top national recipient of NIH research funds, with $13.2 million in grants.
Ranked 11th in America by U.S. News, UC San Francisco tops our list of the best UC colleges for nursing, although unfortunately only at the MSN level.
Conclusion
As we shared earlier, nursing schools aren't like law schools where your university's ranking can determine your career prospects. Instead, you'll want to find a school with a solid reputation to prepare you for NCLEX and nursing career, and all of these UC schools fit the bill.
Financial aid packages can also vary widely between different schools, and we've reviewed the best scholarships at each UC school in this article.
If you're still considering other majors, we've also reviewed the best UC colleges for other majors including:
Thanks for visiting College Guidepost, and we wish you the best in your journey!