Best UC Colleges for Business • The Top 9 Ranked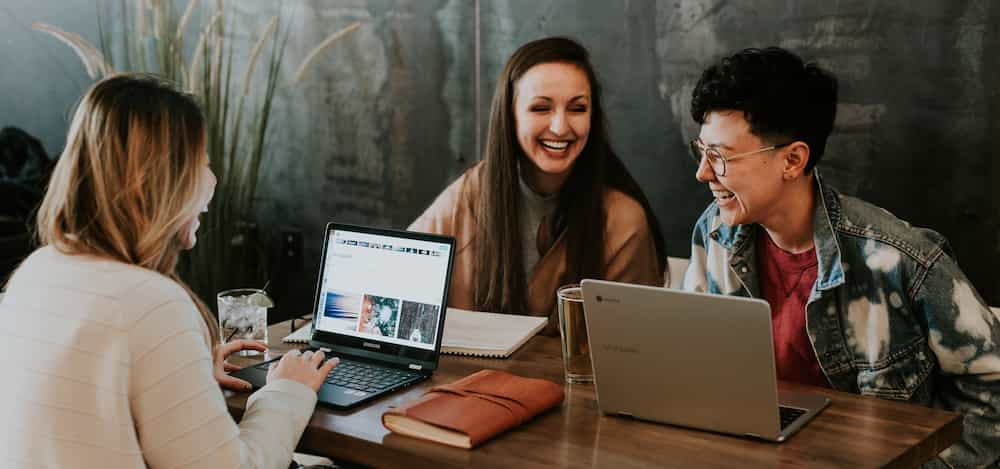 The Best UC Colleges for Business
The best UC colleges for business include one program ranked second nationally, but the others also hold up quite well. As one of the most common majors, you can expect all of the University of California schools to put a lot of effort, funding, and creativity into designing their business programs.
If you're open to attending a Cal State college, we've also ranked and reviewed the 19 best CSU schools for business majors right here.
Business is a major where connections to your local business community and specific businesses play a key role in launching your career. While perhaps less important for majors such as engineering and computer science (see our rankings here), it's good to consider what geographical location you'd like to live and work in after you graduate. In some cases, local colleges and connections can carry more weight than college prestige and rankings.
There are three significant benefits to studying business at a University of California school, whichever specific school you choose. The first is the in-state tuition to keep your student loans as low as possible. Second, these public schools often have excellent policies with community colleges and 2-year transfer universities, for even more flexibility in your college choices. Finally, these schools are all relatively big, and bigger is better when it comes to business connections and landing the right job when you graduate.
With all the great reasons to study business at one of these schools, let's jump right into our rankings of the best UC colleges for business!
UC Santa Barbara has a solid reputation in California and beyond, but they don't offer a business major.
For those interested in business and entrepreneurship, UC Santa Barbara recommends other majors such as economics, financial math and statistics, and communication.
While those programs may be very good, in the end they aren't business degrees, so we'd recommend looking into other UC schools.
UC Merced offers 25 undergraduate majors, and the classic Business Administration degree is not one of them.
However, UC Merced does offer a B.S. in Management and Business Economics. This difference is by design, as the university intentionally aims "to step away from thinking of management as a set of separate functions drawing from single disciplines". Instead, they emphasize entrepreneurship and creative solutions to business problems.
Emphasizing a breadth of subject areas, UC Merced's Management and Business Economics degree covers a wide range of business and economics topics including:
Economics
Organization
Business
Finance
Accounting
Quantitative Methods
Similar to UC Merced, UC Santa Cruz does not have a Business Administration degree but offers a B.A. in Business Management Economics. This major "provides students who are interested in careers in business or management with a foundation in economics and a selection of applied fields related to business management".
Program distinctives include an accounting concentration, study abroad opportunities, doing research as an undergraduate with economics professors, and internship opportunities through the Economics Field-Study Program.
UC Santa Cruz boasts of student internships and career opportunities in the following business areas:
Accounting
Banking
Financial analysis
Investment advising
Management consulting
Marketing
Nonprofit management
Public administration
Real estate
Teaching
UC Riverside is doing something right when it comes to business—the school has seen 58% growth since 2015. In fact, the UC Regents just approved plans to build a new School of Business building, to be completed by fall of 2024.
UC Riverside recently cracked the top 100 in national business school rankings, and offers majors in Business Administration and Actuarial Science.
The college boasts undergraduate research opportunities, business internships with high-profile companies such as Deloitte and Amazon, and lots of scholarships and need-based aid.
When it comes to business, UC Riverside is doing a lot of things right, and actually has the largest undergraduate business program in the UC school system.
UC Davis is yet another school which spurns the traditional Business Administration degree, instead offering a Bachelor of Science in Managerial Economics.
This major emphasizes a broader range of curriculum to "cultivate skills in quantitative methods, problem-solving strategies, critical thinking and effective communication that lead to promising careers".
Each undergraduate student majoring in Managerial Economics chooses one of four available tracks:
Business economics
International business economics
Environmental and resource economics
Agribusiness economics
Business economics emphasizes finance, management, and analyzing business problems, and is perhaps the closest to a traditional business degree. The agribusiness economics degree, focusing on foods and fibers, is perhaps the most specialized.
If one of these tracks matches your career interests and goals, UC Davis would make an excellent choice and give you more specialized skills for your career field.
UC Irvine's Paul Merage School of Business places 30th nationally at the undergraduate level (U.S. News). The school's ranking is due in part to how UC Irvine has embraced the digital era of business, recreating the entire business curriculum in the belief that "we must adapt both ourselves and our businesses for the disruption inherent in the digital environment".
As we mentioned earlier, location is a big deal with business programs because of the opportunity for partnerships. When it comes to location, it doesn't get much better than UC Irvine's location on the Tech Coast in Orange County.
Taken all together, UC Irvine's reputation, facilities, location, and embrace of technology and change make the school an excellent choice for business majors.
U.S. News ranks UCLA 8th among all undergraduate business programs, and they still only managed to place 3rd among the best UC colleges for business. That just goes to show that California is a good place to go to school!
UCLA again spurns the Business Administration degree to offer a B.A. in Business Economics, with minors including Accounting and Entrepreneurship.
Some of the program's distinctives include Startup UCLA, "a community in which students and alumni can develop and launch their ideas under the guidance of top entrepreneurs, investors and skill experts".
Like UC Davis, UC San Diego offers more flexibility in undergraduate business coursework, while still maintaining a great reputation and quality. They have three business degrees. Business Economics is the closest to the traditional Business Administration degree, although once again focusing on the more quantitative and scientific aspects of business.
The other degrees are in International Business, and finally Business Psychology, in which students apply psychology to the workplace.
Building on the major foundation, students also have 6 minors to choose from:
Business
Accounting
Entrepreneurship and Innovation
Technology, Innovation, and Supply Chain
Marketing
Finance
UCSD's Rady School of Management pairs this impressive breadth with impressive rankings, as Bloomberg Businessweek ranked them 4th nationally in both the Entrepreneurship and Learning categories.
It's hard to go wrong with UC San Diego, especially if you want to live and work in the area after graduation.
In a battle of titans, UC Berkeley tops out our list of the best UC colleges for business. U.S. News ranks UC Berkeley second in the nation for undergraduate business majors, and the quality also comes with incredible options to tailor your education to meet your goals.
UC Berkeley's Haas School of Business offers an impressive four majors:
Business Administration
Management, Entrepreneurship, & Technology
Global Management
Life Sciences, Business, and Entrepreneurship
Berkeley's resources are impressive, with creative opportunities such as the Berkeley Charter of Professional Accountancy, in which students satisfy the requirements for CPA licensure in California through two summer intensives.
With student organizations, cohorts, career services, an alumni network, and more, it's hard to think of something you'd want that Berkeley doesn't have.
With a median starting salary of $88,840, UC Berkeley's reputation translates to great career opportunities for students, and Berkeley is our top choice among the crowded field of UC business schools.
We hope you enjoyed this article, and we've got more resources for you including UC school rankings in psychology and our review of the best colleges for computer science in California.