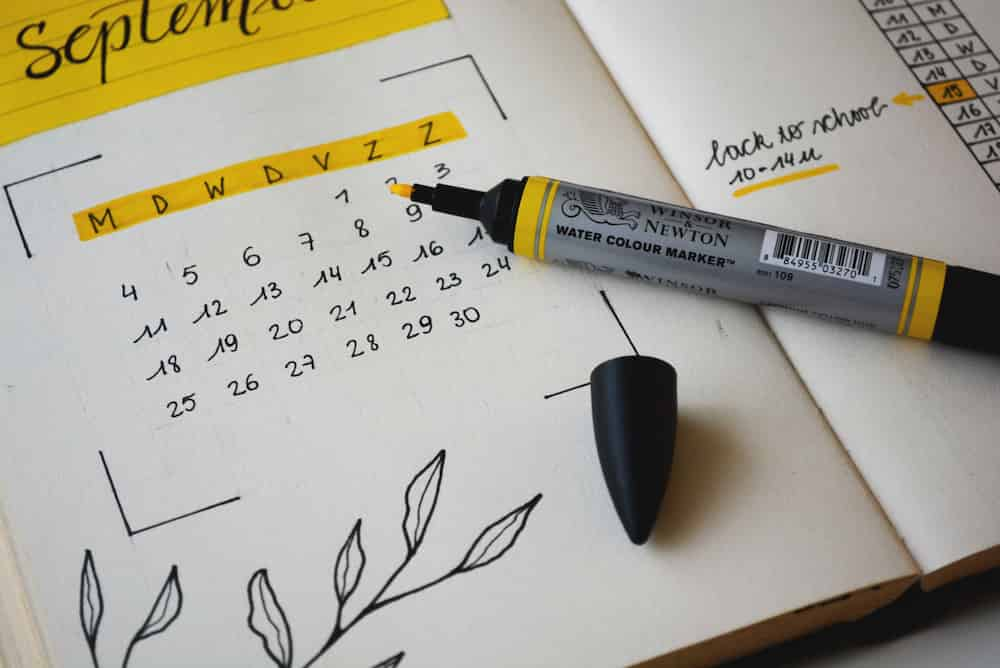 When does college start? In the United States, most colleges start the fall semester in either late August or early September.
If you're interested in comparing the schedules with high school schedules, we've also written about how many weeks are in a typical school year, and when those breaks usually fall.
Most colleges these days use the semester system, but some still divide the academic year into quarters.
Schools on a quarter system often start the fall quarter a little later in September, rather than August or early September.
While colleges using the quarter system do have a quarter system, it's often possible to use the summer quarter as a summer break and not lose any tuition money.
To find the specific dates for when your college starts, you'll want to look up your school's academic calendar.
The easiest way to look up your school's academic calendar is a web search. Type in your university name and "academic calendar", and the page should pop up.
If you already know your school's website, you can also navigate there, and then search the website for "academic calendar", or look for a calendar link.
If you're a freshman, employed on campus, or involved in research, you'll want to keep track of your emails. You may be expected to arrive earlier than other students at the beginning of the semester.
When Does Fall Semester Start?
If your school uses a semester system, as most colleges do, you can expect the first week of classes to fall in late August or early September.
At the University of Central Florida, for example, fall classes began on Monday, August 22, 2022.
When Does Fall Semester End?
The fall semester usually ends in early or mid December. The last one to two weeks of school are often composed of final exams and projects. There may or may not be lectures and normal class schedules on these final weeks.
As an example, Ohio State University already has their academic calendar laid out for years in advance. In 2030, they plan to finish the fall semester by December 12th.
When Does Spring Semester Start?
For college students, the spring semester usually starts in mid to late January. This is a pleasant change to high schools, which often start up much sooner in January.
For example, the University of Florida starts the spring semester on January 9th, 2023.
When Does Spring Semester End?
The spring semester usually ends around the first week of May. As with the fall semester, the last week or two may have a much different schedule. Lectures may be canceled and replaced by finals, projects, and individual and group presentations.
What is J-Term in College?
The J-Term, with J standing for January, is usually a 2-4 week shortened term, in which students take one intensive class before the start of the spring semester.
Even though the fall semester may end in early December, it's rare for a a J-Term to start in December.
This way, industrial students can pick up a few extra credits but still travel a little and enjoy the holidays.
The J-Term may also be known as the Winter Term at some colleges.
When Do College Summer Classes Start and End?
The summer college semester usually starts one or two weeks after the spring semester ends. For colleges on the semester system, this is sometime in May or June.
For colleges on the quarter system, the summer quarter often begins in June. At UCLA, for example, the 2023 Summer Quarter begins on June 19th, 2023. The summer quarter ends on September 15th, 2023.
When is Spring Break in College?
Spring break timing may be scheduled around Easter, but different colleges also hold spring break at different times.
At SUNY's Binghamton University, for example, spring break begins April 1st and ends April 10th in 2023.
When is Fall Break in College?
Fall break is often a shorter break in the college schedule. This may be due in part to colleges also giving a Thanksgiving break, but still needing to conclude classes in mid December at the latest.
As an example, Binghamton University's fall break in 2022 runs from October 20th to October 23rd.
Do College Freshmen Arrive Early for Fall Semester?
College freshmen may arrive early for orientation for their first fall semester. If this is the case at your university, you can expect to get more information on when to arrive and how to prepare.
For example, Texas A&M University is famous for their Fish Camp freshmen orientation.
"At Fish Camp, freshmen are given opportunities to learn Aggie traditions, make friends and learn more about life at Texas A&M. The camp is led entirely by Texas A&M students."
What Time Do College Classes Start and End?
Registering for college classes is a ritual each semester for college students. Students weigh several factors, including:
What courses are being taught this semester

Are there multiple professors teaching the course

What time are the courses
With that said, it's typical for a student's first class to begin at 9:00 or 10:00 in the morning. Student courses often end by 3:00 or 4:00 in the afternoon.
If a student enrolls in an evening class, the class may be longer (multiple hours), but may only meet once per week.
These factors change at each school and even within each program. However, the 9:00 to 4:00 is a good rule of thumb, as most college courses are held between these hours.
When Does College Start in New York?
The start and end dates for fall and spring semesters can vary from state to state. In New York, we'll use the SUNY University at Buffalo as an example.
At UB in the 2022-2023 school year, the semesters run in this manner:
Summer sessions begin as early as May 31st and end as late as August 19th
The fall semester begins on August 29th and ends December 20th
The winter session begins on January 4th and ends January 24th
The spring semester begins on January 30th and ends May 12th
When Does College Start in Texas?
We'll use Texas A&M as our example of college semester start and end dates in Texas. For the Aggies, the schedule looks like this in the 2022-2023 school year:
The fall semester begins on August 24th, and the last day of finals is December 12th
The spring semester begins on January 17th, with finals ending on May 9th
Summer courses begin on May 30th, with final exams for all students ending on August 10th
We hope you've found this article helpful, and we have more resources here to serve you. The 8 best free career tests on the internet can help you narrow down the best major for you, while these surprisingly-generous part time jobs with tuition reimbursement can help you get that degree without a big debt burden.