Brookdale Community College • Review, Rankings, and FAQ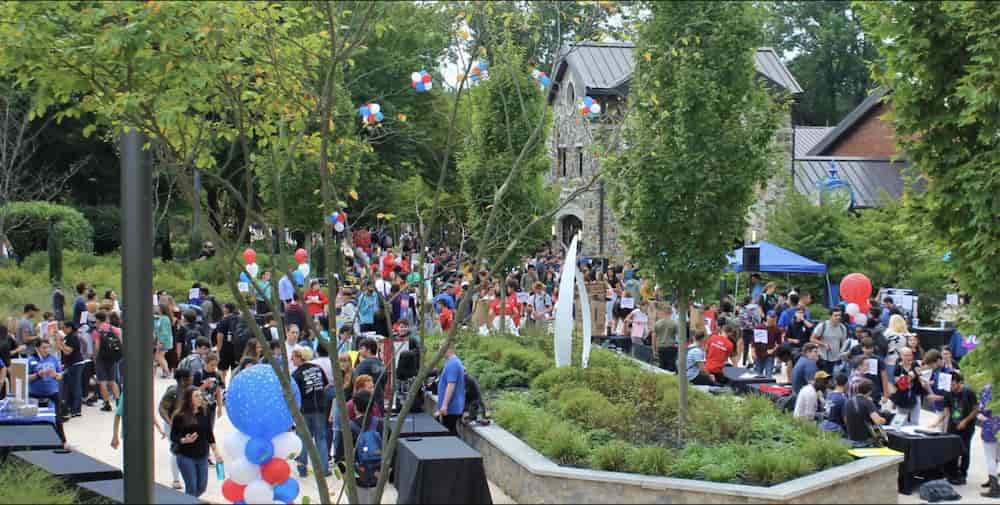 We're excited for this Brookdale Community College review and rankings article because it's rare to find a college offering the educational value of Brookdale.
What educational value, you might ask? Well, we've covered that in another article, where we discuss the Tuition Free Brookdale grant, scholarships, and more.
In short, yes, Brookdale Community College really is free for many students, and the tuition is reasonable even if you don't qualify for the 100% grant.
However, even with a cheap or free college, you'll want to be confident that you're going to a good school with respected programs that will get you a job.
Where is Brookdale?
Brookdale Community College is located at 765 Newman Springs Rd, Lincroft, NJ 07738.
The college is located within Monmouth County, and residents from within the county pay even less for tuition than other in-state students.
Of course, as we mentioned earlier, some students won't have to pay any tuition or fees at all.
Is Brookdale a good school?
In short, yes, Brookdale Community College is a great school, and that's not just because of the cheap-to-free tuition rates.
Brookdale is a highly-regarded community, ranked among the nation's top 50 community colleges by Academic Influence, and ranked 1st in New Jersey by Best Community Colleges.
What GPA do you need for Brookdale Community College?
Brookdale Community has an open admissions policy. This means that there is usually no waitlist, and most students who meet the basic requirements will be accepted by the college.
Is Brookdale Community College a 4-year school?
No, Brookdale Community College is a 2-year college offering quite a few different associate's degrees.
However, Brookdale has established partnership pipelines with two 4-year universities: Georgian Court, and the esteemed Rutgers University.
What degrees does Brookdale Community College have?
We won't list all the degrees here, but Brookdale has an impressive array of programs including the ones below. Programs often have multiple options, tracks, or specializations.
Some of these programs are designed specifically for transfer arrangements with Rutgers or other universities.
For a community college, there are quite a few programs to choose from! We'll put some of the degrees in bold for emphasis.
Architecture Program, A.S.
Automotive Technology Program, three options, A.S.
Business Administration Program, A.S.
Communication Media Program, audio and video options, A.A.S.
Computer Science Program, three options, A.S.
Criminal Justice Program, A.S.
Culinary Arts Program, A.A.S.
Education Program, three options, A.A.
Electric Utility Technology Program, two options, A.A.S.
Electronics Technology Program, two options, A.A.S.
Engineering Program, A.S.
Environmental Science Program, A.S.
Fashion Design and Merchandising, A.S.
Fine Arts Program, Studio Art Option, A.F.A.
Game Design, A.A.S.
Graphic Design Program, A.A.S.
Health Science, Social Science, A.A.
Homeland Security and Emergency Management Program, A.S.
Hospitality Management, A.S.
Human Services Program A.S., three options
Humanities Program, eleven options, A.A.
Instructional Assistant, A.A.S.
Interior Design Program, A.A.S.
Mathematics/Science Program, five options, A.S.
Music Technology, A.A.S.
Network Information Technology, A.A.S.
Nursing, A.A.S.
Paralegal Studies Program, A.A.S.
Public Health Program, A.S.
Radiologic Technology Program, A.A.S.
Respiratory Care Program, A.A.S.
Social Sciences Program, A.A., eight options
Teacher Assistant A.A.S.
Technical Education A.A.S.
Technical Studies Program, Business Management Option, A.A.S.
Brookdale Community College and Rutgers
Our Brookdale Community College review and rankings wouldn't be complete without noting the special relationship between Brookdale and the famous Rutgers University.
The Brookdale-Rutgers University Partnership is well-established, celebrating an impressive 20 years of partnership.
According to Brookdale, "These partnerships are part of an ongoing college-wide initiative to increase opportunities and streamline the educational experience for students. In addition to these University Partnerships, Brookdale has transfer agreements with over 45 colleges/universities across the state, the country, and even internationally!"
Some highlights of the Brookdale-Rutgers pathway in particular are dual admissions, 3+1 program options, and streamlined transfer agreements.
The Brookdale-Rutgers pathway has 7 available majors in the dual admissions program:
Business Administration
Criminal Justice
Labor and Employment Relations
Liberal Studies
Political Science
Public Health
Social Work
However, this doesn't mean you can't transfer into other programs at Rutgers. Rutgers has an established relationship and trust with Brookdale, and students are usually able to transfer their credits without a hitch.
Brookdale Community College Grading Scale
Brookdale's grading scale is fairly straightforward, requiring a 92% or higher for an A.
The full grading scale is below:
| | |
| --- | --- |
| Grades | |
| A | 92-100% |
| A- | 89-91 |
| B+ | 86-88 |
| B | 82-85 |
| B- | 79-81 |
| C+ | 76-78 |
| C | 70-75 |
| D | 65-69 |
| F | Below 65 |
What is a passing grade at Brookdale Community College?
According to their website, a C grade or higher is required for all prerequisite courses, and a C is also required for all courses to be counted toward graduation. This effectively means that a passing grade at Brookdale is a C.
When does Brookdale Community College start?
For the 2022-2023 school year, the first day of classes at Brookdale Community College is July 5th for the summer school classes, September 8th for the fall semester, January 3rd for winter courses, and January 18th for the spring semester.
What time does Brookdale Community College open?
Most departments at Brookdale Community College open at 8:30, while closing hours vary more widely.
For example, Registrar hours at Brookdale at the time of writing are:
Monday – Thursday: 8:30 AM – 6:30 PM (June 1 – August 15 closes 30 minutes earlier)**
Friday: 8:30 AM – 4 PM
Saturday: 9 AM – 12 PM
Brookdale's Notable Alumni
Former NBC anchor Brian Willians, reality TV star Mike "The Situation" Sorrentino, and radio host Lou Brutus are three of Brookdale Community College's notable alumni.
There are also faces across the sports world:
Bill Hill, a former NFL cornerback for the Dallas Cowboys
Jim Hunter, a sports broadcaster covering the Orioles
John Montefusco, an MLB pitcher from 1974 to 1986
Denny Walling, a third basement for the Houston Astros
Thanks for reading our Brookdale Community College review and rankings. If you like Brookdale but are still thinking through your major, we'd recommend checking out these 8 free career tests which you can complete online.
Whatever your path, we wish you the best in your college and career journey!