18 STEM Scholarships for Women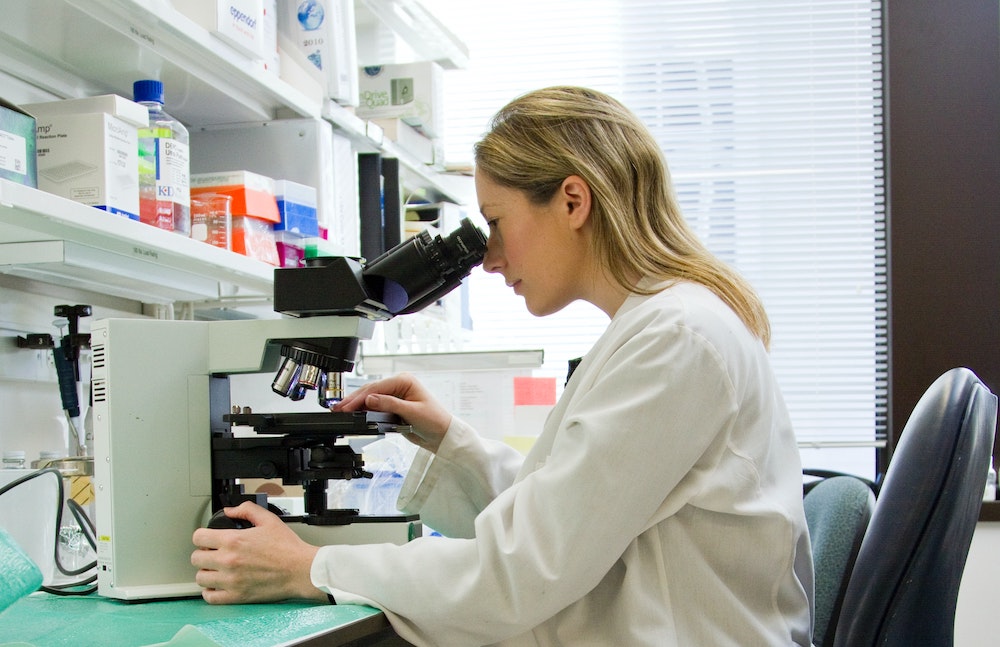 STEM scholarships for women have become abundant in recent years, and that's great news for college students! These scholarships are open to students in a wide range of majors in the areas of science, technology, engineering, and math. If you're not sure if your major qualifies, it's best to look at the specific scholarships for guidance as there is some variance. In fact, some scholarship foundations include the arts as a fifth general category (STEAM).
While there are lots of major-based scholarships for women available, nothing comes close to the STEM scholarships in terms of the funds given and the different scholarships available. There are also lots of great state-restricted and local STEM scholarships for women, and we have a guide on how to find those local scholarships right here. In California, the PG&E Better Together STEM Scholarships are a great example, offering up to $10,000.
In this article we'll only look at nationally-available scholarships for all STEM majors, but it's also a good idea to check for major-specific scholarships within the STEM fields. For example, there are a lot of scholarships for women in engineering and computer science, specifically.
Let's get to what you came for—the impressive list array of scholarships, listed alphabetically.
National STEM Scholarships for Women
Yes, that scholarship name is quite a mouthful. This woman-owned corporation aims to make a difference by encouraging more women to study and influence "the future of science, including technology, engineering and math". The 1000-word essay prompt is, "Why are you passionate about science, technology, engineering, or math, and how will your pursuit of these fields help preserve biodiversity, improve the health of our planet, or alleviate human suffering?"
One award for $1,000 will be given, but up to 9 smaller awards may also be granted, so this is a great scholarship that any woman in a STEM major can apply to!
AFCEA has not one but four undergraduate scholarships available:
STEM Major Scholarship ($2,500)
Undergraduate Diversity Scholarship ($3,000)
Cyber Security Scholarship ($5,000)
Student Member Scholarship ($2,500)
They also have a $3,000 graduate award for women in STEM. The requirements differ for each scholarship but all will require a personal statement. "Please provide a personal statement outlining your career goals and explain how they will contribute to the American work force in the areas related to STEM, defense, communications, information technology, national security, and/or information systems and the mission of AFCEA." Take a look at the website for more application details, but this is one that might be worth the effort!
This fall scholarship is open to any women who are pursuing an undergraduate or master's degree and are majoring in science, technology, engineering, or mathematics. The first essay prompt is, "Tell us about your favorite app and what you like about it." The second prompt is, "Tell us about a time an app played a significant role in improving your day."
This $3,000 scholarship is also open to international students at U.S. universities, so a lot of people will be eligible to apply!
Collabera offers a $2500 scholarship to a female STEM student "looking to be part of the next generation of young women looking to make an impact in the STEM community". You'll have to have a 3.0 GPA or higher, submit a transcript, submit a letter of recommendation from a professor or teacher, and write a one-page essay on the following prompt, "What progression for the women in STEM community would you like to see in the next ten years? How do you plan to contribute to those advancements?" The application is usually due in May.
IJA Strategies is another woman-owned technology business that decided to propel and celebrate women in technology by launching a scholarship. They offer two $1,000 scholarships for undergraduate women in STEM, which you can apply to any education-related expense including tuition, fees, books, supplies, and room and board. The application is normally due in November.
This scholarship started at $1,000 but has already grown to a $3,500 award! The winner will be "an individual who is pursuing a college degree in the marketing field, including but not limited to, those interested in studying web development or design, communications, UX, PPC, SEO, and marketing-related STEM fields."
They ask for a letter of recommendation and portfolio of work, but 70% of your score will be determined by a 600-800 word essay in which you're asked to introduce yourself and your major and then discuss your career goals, interests, hobbies, community involvement and academic achievements. Yikes, but hey it's worth it for a potential $3,500 scholarship!
The application period closes in August or whenever they receive their 200th application, so you'll want to get your application in early.
Open to graduate and undergraduate women in STEM, this scholarship awards $1,000 to up to five individuals each year. The application opens in July and requires an essay on the prompt, "​What inspired you to pursue a STEM career? What do you plan to do in your career and why? What are your ideas to bring more women to the STEM field?​"
This isn't a duplicate, MagellanTV just also happens to offer five $1,000 STEM scholarships for women! Their application requires proof of upcoming enrollment along with a written essay (300-500 words) or video submission (2-3 minutes) answering the following prompts: "What are you studying in the STEM field? Why are you passionate about your chosen area of study? What do you hope to use your education for in the future?"
According to their site, "Submissions will be judged based on thoughtfulness, clarity, creativity, grammar, and how well the above questions are answered. Submissions will not be judged based solely on need." Magellan also requires a 3.0 GPA for students to receive the scholarship, and application are due before September.
Since 2007, NCWIT has given out awards to over 17,000 students, and the award is sponsored by corporate giants Apple, Bank of America, Microsoft, and Motorola. Even more interesting—students can apply at any time during high school. The selection is "based on their aptitude and aspirations in technology and computing, as demonstrated by their computing experience, computing-related activities, leadership experience, tenacity in the face of barriers to access, and plans for post-secondary education."
There are multiple levels of awards, and the sheer number of awards granted means that you have a much higher chance of winning something, so why not give it a shot?
This scholarship is open to women and minority students in STEM-related majors. They recommend but don't require a 3.0 GPA. To apply, you'll need to fill out an application including two years of transcripts and write a 1-page essay on one of four prompts. If you make it to the finalist round, you'll need to do a video call interview as well. The award is only for $1,000 but they do have multiple winners each year, so it's probably worth the effort.
This foundation offers $500 awards for those with family income under $45,000. They require a transcript, three letters of recommendation, and a 750-1,000 word essay on the following prompts:
● What sparked your interest in your chosen STEM field?
● What are your career goals for your chosen field?
● Describe any experience you already have in the field.
This is an intensive application for just a $500 award, and they seem to select 1-2 winners per year, so your time may be better spent elsewhere. If you decide to go for it, the application is due by August.
This $1,000 scholarship is due before November and requires a 3.0 GPA and a 500-word essay on one of the following prompts: "What challenges do women in tech face? What solutions to these challenges can you propose and why? Why does the IT-sphere need women, and what impact do you believe you could make in the industry? How to inspire other women to choose a tech specialty?"
It's a relatively easy application with a nice $1,000 jackpot, so we recommend giving this scholarship a shot!
Due in April, this $800 award requires an assay on "why you're passionate about STEM and why you think STEM will prepare you for a successful career." There's only one winner each year, but the simple application is a nice touch.
This scholarship is only available for women in Massachusetts with financial need, but if you qualify it's a great opportunity. Here's the full description from the press release:
"Now in its fourth year, this U.S.-based scholarship was created to honor the late Mary Székely (pronounced: "See-kay"), Progress co-founder and lead software engineer for more than 30 years. The Progress Software Mary Székely Scholarship for Women in STEM is a four-year renewable scholarship to cover tuition, fees and educational expenses.
"To be eligible, the candidate must be a resident of Massachusetts, identify as a woman and have a financial need. They must also plan to pursue or are currently pursuing an undergraduate degree in computer science, software engineering, IT and/or computer information systems."
Watermark offers two $5000 scholarships annually to women in STEM, with an entry deadline in July. You can submit an essay (up to 500 words) or send in a two-minute video addressing the question, "Who has inspired you to pursue a career in science or technology and what are you inspired to do after graduation?"
This is another fairly simple application with a huge potential reward of $5,000, making it one of the best nationwide STEM scholarships for women that we've found.
The Women in Aerospace (WIA) Foundation, Inc. has entered the scholarship stratosphere with a $2,000 scholarship that has often had four or more winners per year! They require a 3.0 GPA, letters of recommendation, and a 500-1000 word essay on the following prompt, "Imagine that you are trying to
explain to someone with no interest in aerospace why aerospace is important. How would approach this explanation and what would you say?"
Women at Microsoft awards three $5,000 scholarships. The scholarships are renewable for up to a total of $20,000 in scholarship funds! Up to 10 runners-up are also selected to receive a one-time $2,500 stipend.
The application requirements include two letters of recommendation, a transcript, a summary of your personal, academic, and community engagements, and a 500-word essay "outlining your plan to be engaged in a STEAM industry in your career and highlighting your passion for technology and the impact it can have on the world".
This isn't an easy application, but with $20,000 in potential scholarship money on the line, it's one of the most prestigious STEM scholarship for women in America, and Microsoft's name could give you a nice resume boost as well!
This scholarship application is long and thorough, but it rewards winners with $500-$2,000 annually in scholarship funds. The essay prompt is, "Why you are interested in obtaining an advanced degree? How you expect to contribute to the utility industry or an allied field after completion of your studies?"