Best Nursing Scholarships of 2022 (54 Strong!)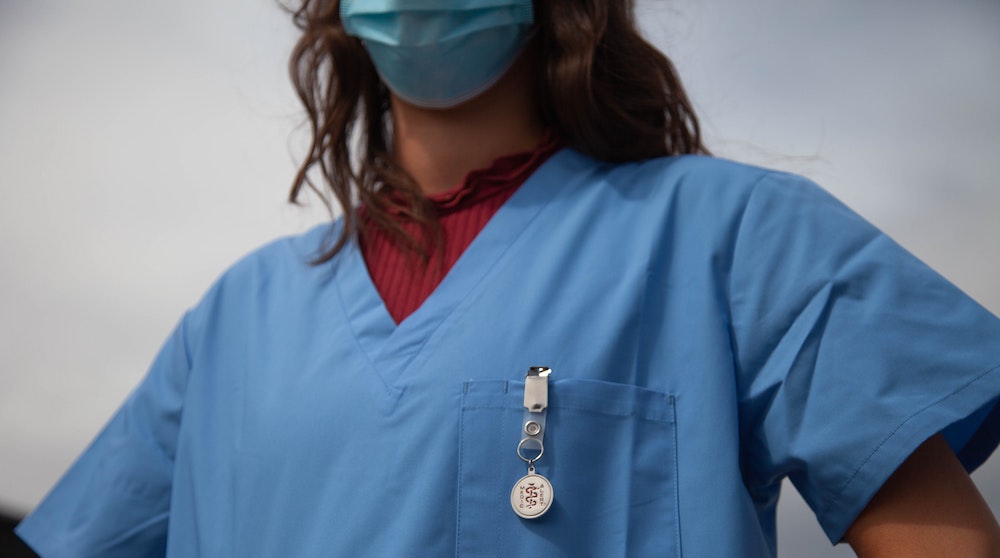 The best nursing scholarships is a broad category to cover, and we've spent hours sifting through websites to bring you the latest info on the best nursing scholarships. Do we regret it? Maybe, but our loss is your gain.
These scholarships are all nationally-available, though some are only applicable to certain areas of nursing or have other requirements. The scholarships can also be used at any college, so be sure to check your own college for their specific scholarships available. It's also a good idea to research local scholarships with less competition, and we have a guide on how to do just that.
Between those sources and our list, we hope you can find the funding you need to graduate and be a great nurse, so let's get to it! We'll list the scholarships alphabetically, but we'll make sure to point out those with the most available scholarships and funding.
The 54 Best Nursing Scholarships
Sponsored by Cherokee Uniforms, this program has given away around $200,000 in scholarships since it was launched in 2007. In 2021, they expanded the scholarship from one winner to five, giving you an even better chance of winning. Each scholarship is valued at a very respectable $2,500. The application period for A Nurse I Am Scholarship runs from February to the end of March each year.
The American Academy of Ambulatory Care Nursing offers multiple scholarships for nurses at various points in their education and careers, and you can view the requirements for each scholarship on their website. Each of the scholarships is worth $1,000 but they may offer multiple scholarships each year.
To be eligible for this program, students must be studying "nursing, counseling, psychology, social work, marriage/family therapy, or other curriculum focusing on treatment of mental health and substance use disorders." The program also requires a GPA of 3.2 or higher and is open to full-time or part-time students. To enter, students must write a first-person essay of 500 words or shorter on the prompt, "Describe what drew you to want to pursue a career in behavioral health care. What is one milestone you hope to achieve in this field?" The winner receives $5,000, and the second and third place finalists will receive smaller scholarships as well.
AACN offers two $5,000 scholarships four times each year! To be eligible, students must have at least "a 3.2 grade point average in current program or at last school attended". The application involves a 250-word essay "on your goals and aspirations as they relate to your education, career and future plans. Explain why you are a qualified candidate and should be considered for the scholarship".
The American Association of Post-Acute Care Nursing has four separate scholarship available worth between $3,000 and $5,000, so this is a great choice scholarship program to look into. They also have research grants available.
The AfterCollege-AACN Scholarship Fund can be used for any level of nursing education. They do note that "special consideration will be given to students in a graduate program with the goal of becoming a nurse educator; students completing an RN-to-BSN or RN-to-MSN program; and those enrolled in an accelerated program". Even if you don't fit into those categories, the scholarship is for an impressive $10,000, so this may be worth an application.
This scholarship for young students in science involves a video submission or social media post, and has awards ranging from the traditional monetary scholarships to physical gifts of scrubs, lab coats, stethoscopes, and more! It's a unique, creative, and generous scholarship program, so take a look and see if you qualify!
The American Association of Occupational Health Nurses offers five scholarships and grants funded by Liberty Mutual, the UPS foundation, and others. These are geared toward occupational and environmental health professionals.
This $500 scholarship is given to three winners each year. Students must be studying school nursing, or general nursing "if the application is accompanied by a letter from the academic advisor on official letterhead describing the academic program's preparation for the specialization". Applicants must have a 3.0 GPA and be juniors or seniors, and ASHA doesn't consider financial need in selecting winners. Winners "are also given a 3-year complimentary student membership in the association".
The American Medical Resource Institute has a $1,000 scholarship which is primarily based on an essay. The essay must be over 2,000 words and answer two questions. The first is, "What unique contribution do you think you will make as a healthcare professional?"
For the second part, you can choose to answer one of multiple questions. "What do you think would be the most difficult aspect of applying ACLS or PALS techniques to a person in need? Where will your ACLS or PALS skills take you? Write about where you are in your career goals now and where you see yourself in 5, 10 and 15 years." They tell students to "be sure to proofread your essay thoroughly before submitting", so you can expect writing skills, spelling, and grammar to play a significant role in the judging process.
The Academy of Medical-Surgical Nurses offers scholarships to those who have been members or the organization for at least a year. They offer five scholarships and two grants, and the scholarships have as many as five winners. Between the membership requirement and the many scholarship winners, this is a great scholarship to apply to if you are eligible.
The Academy of Neonatal Nursing scholarships are also only available to members of the academy pursuing an undergraduate or graduate degree. Recipients must already be working as neonatal nurses, among other requirements. The application includes a 200-word essay, "stating why you are pursuing your education and how attainment of this degree will benefit you in your professional role as a neonatal nurse". The scholarship is only for $1,000, so unless you're already working as a neonatal nurse it might be best to look elsewhere for scholarship funding.
The Association of periOperative Registered Nurses offers academic scholarships of varying amounts "to students pursuing a career in perioperative nursing, and to perioperative registered nurses who are continuing their education by pursuing a bachelor's, master's, or doctoral degree."
The Association for Radiologic and Imaging Nursing offers this $600 scholarship "to provide financial assistance to ARIN members who have returned to school to advance their nursing education". Their other offerings are awards rather than scholarships.
The Army Nurse Corps Association offers scholarships not only to current US Army personnel, but also to those who previously served (Active Army, Army National Guard, or Army Reserve), as well as those with a parent, spouse, or child who is serving or has served. If any of these apply to you, ANCA offers a great scholarship program which gives awards to multiple people each year.
These $3,000 scholarships offered by the Oncology Nursing Society Foundation require applicants to already be registered nurses, to provide a recommendation letter, and to answer multiple essay questions. There is also a $5 fee to apply, but with 25 winners last year, it's probably worth the five bucks and the effort to apply for this scholarship.
This is a $1,000 scholarship awarded to one winner each year. Applicants must be "non-traditional, fulltime student pursuing undergraduate degrees in nursing". They define non-traditional as having at least a 3-year gap between high school and college.
BCEN's scholarship program exists to "shine a national spotlight on exemplary nurses and organizations who are committed to specialty certification and excellence in emergency nursing", and their multiple scholarships are all centered on this goal. To see if you qualify for one of these emergency nursing scholarships you can check out their scholarship page.
This is a very limited scholarship, as applicants must have "Membership in the American Academy of Ambulatory Care Nursing (AAACN) for a minimum of two continuous years at time of application". Recipients must also have financial need, exam eligibility, an "agreement to become certified in Ambulatory Care through ANCC within one year of receiving award", and a desire to give back to ambulatory care nursing. The requirements are right, but that means if you do qualify you'll face much less competition.
Offered by the American Nephrology Nurses Association offer scholarships to fifteen nursing students each year, with awards ranging from $2,000 to $4,000. However, applicants must have already been in the association for two years, which again narrows the field significantly.
Creative Biolabs offers a $1,000 scholarship to one student each year. Among other requirements, winners "will be asked to submit a video recording of a scholarship acceptance speech". You only have to submit the video if you win, so it could be worse, but it really could be better too.
The Daughters of the American Revolution offer four scholarships specifically for nursing students, ranging from $2,000 to $2,500. With a variety of requirements for the scholarships, you may find that one of these is a great fit for you.
The Emergency Nurses Association offers a number of scholarships across the whole range of associate's, bachelor's, and advanced degrees. They have in common the goal to "further advance emergency nursing", so if this is an area of interest for you, you'll likely find a good scholarship to apply for.
These scholarships are only available to "students with a documented disability who have applied to, or already been admitted to, a college or university program on a full-time basis." If that describes you, then be sure to check out the multiple scholarships they offer each year. The scholarships are worth $250 or $500.
The Foundation of the National Student Nurses' Association gives out over $500,000 each year through their general scholarship and promise of nursing programs. Scholarship funding is up to $10,000 per student! Applications open in September and close in February, and you can view all of the application details on their page. These scholarships blow the competition out of the water in terms of both scholarship amounts and annual winners, so if you only apply to a few scholarships, this should be one of them!
Genesis Health Services offers multiple scholarships, generally around the amount of $1,000. While some are only for employees, others are open to any nursing student.
This scholarship is funded by an attourney who offers a $1500 nursing scholarship to "high-achieving students who are committed to elderly care and pursuing a baccalaureate degree in nursing". Candidates must already be working in elderly care and submit a transcript and essay, but there is no minimum GPA required to apply. The 500-1000 word essay can be on one of these two topics: – The Psychological Impact of Nursing Home Abuse on Elderly Residents – The Importance of Combatting Ageism in a Care Home Environment
HealthGrad's selection process includes a GPA requirement (3.2 or higher), a work history and description of extracurricular activities, and an essay of 4,000-10,000 characters. The value is $1,000.
Hurst Review Services offers two $2,500 scholarship twice each year to nursing students. They're trying to get you to use their NCLEX review service, but hey, scholarships are scholarships!
This is one of the oldest nursing scholarships on our list, and the application process runs from November 1 through March 1. You can't apply in your first year of nursing school, as they require associate degree students to have completed a full year, and students in other degree programs to have completed two years of school.
This scholarship by the American Red Cross is only available to nursing students "who have contributed volunteer service to or are employees of an American Red Cross Unit." If that describes you, it's a good chance to apply for a nursing scholarship.
This is another $1,000 law firm scholarship open to any nursing student. The application includes a 500 to 750-word essay based on the prompt, "Tell us what drives you and why you want to pursue a nursing degree or why you want to go to nursing school."
We're on a roll with the law scholarships, and this one ups the ante to $1,500. This is available "to nursing students (undergraduate or graduate) and actively employed RN's seeking to advance their education in the healthcare / medical field". They have a prompt that was so long we didn't include it, requiring both an essay and a video response.
International Nurses Society on Addictions (IntNSA) offers a stipend to attend that year's IntNSA conference and an additional $500. The application requires students to say in about 250 words "why they are interested attending the conference and what they plan to do with the knowledge gained".
The company offers $1,000 to a student in a medical field based on a 500-word essay on the prompt, "What inspired you to pursue a career in helping others?" You must have a GPA of at least 3.0, and winners must submit a picture for the website.
This men's scrubs company offers a $1,000 scholarship for nursing students. A 3.0 GPA and essay are required, and this is another one of those contests where you have to get your friends to vote for you if you become a finalist.
This scholarship is only for $500, but the foundation offers a scholarship every month! Students must have a 2.8 GPA or higher and be enrolled in a healthcare or education program. It includes a 500-750 word essay "describing what motivates them in their career aspirations, and why they want to pursue or are currently studying for a healthcare-related degree".
While named as a scholarship program, this is better described as a debt repayment program, where "We pay your tuition, fees, and other educational costs" and "You work at a Critical Shortage Facility (CSF) when you graduate". If you're interested, these can be great programs to cover college costs, just make sure you understand the commitment and decide it's what you want to do.
The Nurse.org $1,000 Healthcare Leaders scholarship is for students in either nursing or medecine. A 3.0 GPA and essay are required, after which 10 finalists are chosen. This is one of those scholarships where you have to get your friends to vote for you to win the $1,000 scholarship. It's not our favorite scholarship method, but it's up to you whether to apply!
NurseRecruiter recently jumped into the scholarship game, but it's unclear on the website how to apply. It does include an essay which they will publish on their website if you win.
Cascade Healthcare Solutions offers a $1,000 scholarship each year to nurses. This is primarily "an essay contest, with a different essay topic each year… the essay will be assessed based on quality, thoughtfulness, and relevance to the topic." Applications close on August 1st of each year. It's open to both current students and high school seniors going into nursing school.
This is another $1,000 scholarship for undergraduate nursing students only, with a 500-800 word essay on the prompt, "Nursing job openings are becoming increasingly competitive. Imagine yourself in a group interview situation with nine other newly licensed nurses all competing for the same position. Describe how you would present yourself to the potential employer and convince them to hire you rather than the other applicants."
The Oncology Nursing Society offers several scholarships for oncology nurses returning to school. They awarded over $448,000 last year in academic scholarships! The society's goal is to "provide scholarships to registered nurses committed to oncology nursing and pursuing a baccalaureate degree in nursing". If you are a registered nurse working towards a career in oncology nursing, this society has a huge amount of scholarship funding available!
Their website page hasn't been updated since updated since 2015, but at that time they were offering four $500 nursing scholarships each year. It's unclear whether the program has puttered out or not.
PENS offers scholarships only to their members, but if you're already a member then be sure to check out the current scholarships they have available for nursing students.
RegisteredNursing.org offers a $500 scholarship with a September 1st deadline and a 3.5 GPA requirement. Applicants must be currently enrolled and write a 500-700 word essay on the questions, "What area of nursing are you most passionate about as a RN and in what ways do you think advancing your degree will enhance your passion?" On the bright side, this simple application is all online, so you won't have to spend more time on this than a $500 scholarship deserves.
This scholarship is open to anyone in healthcare-related studies. They accept applications from October 18th to November 29th and notify the winners each december. Three prizes are given out, for $1,500, $1,000, and $750. They require a 1,250 to 1,500 word essay on the prompt, "Describe the material wastes that manifest from different forms of COVID-19 testing. Then, explore both successful and insufficient strategies
for their management as published in the media or via government sites."
This society offers two scholarships each year, available to their members only. The scholarships are given out at their conference each April.
These five male-only scholarships range from $1,000 to $5,000, and are available only to members of the American Assembly for Men in Nursing.
This is another $1,000 offered by a law firm that works with medical professionals. They require a 3.5 GPA and a 500-word essay asking how the scholarship will help further your education.
It's another law firm, this time offering a $1,500 scholarship to students in a variety of medical fields. They require a GPA of 3.0 and "a 650-word essay about your future goals in the medical field".
TYLENOL is a big name and offers a big scholarship, with an intensive application process to go with it. Winners will benefit from both the funds and the resume boost of a prestigious scholarship that's been around for over 30 years.
Standing at $500, this is a small scholarship, but the simple and quick application process means it's still worth applying for. Applications are due in by May 1st of each year.
This is a simple application for aspiring nurses, requiring only a 500-word essay on why you want to be a nurse. "Describe your dream job to us and tell us WHY this is your dream job. Consider the following in your essay: Why is nursing your dream job? What are you doing to reach your dream job goal?" There's only one winner of this $1,000 scholarship each year, but the application process is so easy that there's no reason not to apply.
How to Win National Scholarships
You may have noticed the WiseGeek Nursing No-Essay Scholarship at the end of your list. You may have also noticed it was just about the only scholarship without an essay. National scholarships will have a lot of competition, but you can prepare yourself with our article on 15 steps to the perfect scholarship essay.
Thanks for reading our article on the best nursing scholarships of 2022, and thank you for making the world a better place by being a nurse!