22 Best Vocational and Trade Schools in Santa Monica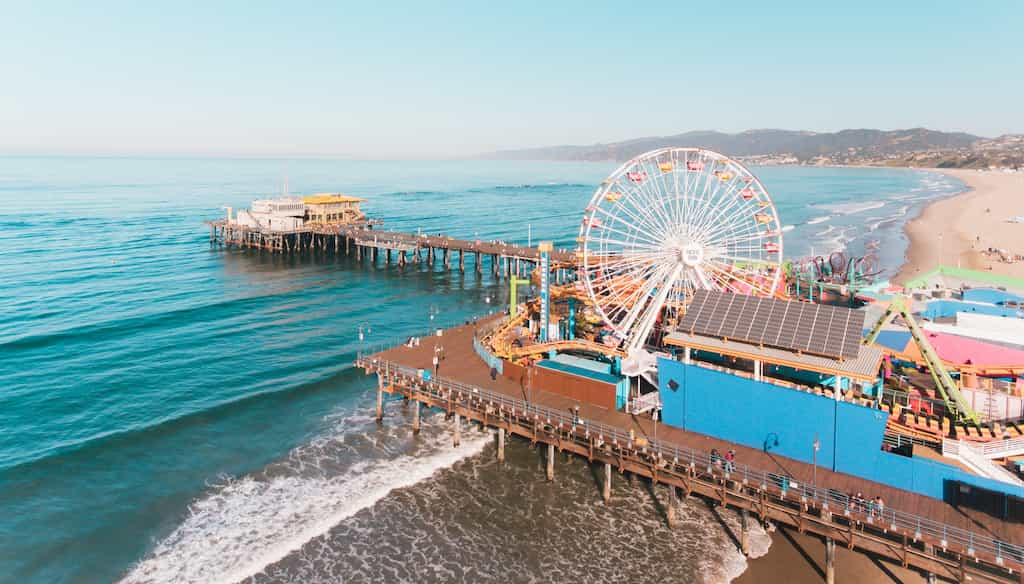 The best vocational and trade schools in Santa Monica include traditional trades training programs in electrical, plumbing, HVAC, and welding. We'll also cover the best coding boot camps, culinary schools, beauty schools, aviation schools, acupuncture schools, art schools, massage schools, and ultrasound tech schools in Santa Monica.
Whew, that was a sentence. Don't worry, we'll break down the trade schools in Santa Monica into manageable chunks, with reviews of each school and what they do.
Before we get to our reviews, we've also written a comprehensive article on the 12 best colleges near Santa Monica, and some of these schools also have great technical programs to consider.
All right, let's dive right in with the vocational and trade schools.
Best Trade Schools in Santa Monica
Held directly at Santa Monica High School, the Regional Occupation Program provides a state-supported, tuition-free way for high school students to gain technical skills that can land them a job.
Careers that students can prepare for through the regional occupation program include:
Agriculture
Auto Technology
Business
Construction
Culinary Arts
Graphic Design
Healthcare
Information Technology
The only downside of this program is that it's only available for local high school students. Fortunately, college students have a great opportunity as well with our next choice.
We highlighted Santa Monica College in our rankings of the best colleges in Santa Monica. To summarize, SMC offers great educational quality at incredible low tuition levels.
For students preferring technical or vocational job training, Santa Monica College offers Career Education Programs.
These programs offer a path to receive an Associate of Science degree, or a certificate in your chosen field. And what fields does SMC offer? Quite a few.
In fact, there are too many to list, so we're just going to list the general areas that programs fall under.
Business
Communication and Media
Computer Science and Information Systems
Office Technology (including medical billing and coding, etc.)
Cosmetology
Design Technology
Early Childhood Education
Fashion Design
Health Sciences
Nutrition and Athletic Coaching
Photography
Sustainable Technologies
Theatre Arts
Some of these areas have many different programs available. For example, there are 18 different programs that fall under the umbrella of business.
If theCareer Education Programs at Santa Monica College offer what you're looking for, SMC is a great choice. The cost is affordable, the quality of education is great, and you often get a degree too!
All right, let's look at the some training centers that fall more on the technology and programming side of things.
Best Technical Schools and Coding Boot Camps in Santa Monica
Located on Santa Monica Boulevard, Accel Tech Institute offers a number of technical programs. They don't have a website so we can't say with certainty what programs they even offer or the educational quality. Programs they may offer include:
Technology And Management

Car Stereo Installation
Computer Careers
Technical Support Training
Automotive Service Business
Database Courses
Automotive Repair Shop Careers
It seems like a lot of these revolve around computer skills (but not computer science and coding), and also automotive careers. That's all we've got on Accel Tech Institute in Santa Monica.
AudioGraph International is an education provider that boasts of being an AVID Authorized Training Partner, offering "Pro Audio Courses & Certifications by the beach in Santa Monica, CA".
Most of the courses involve either Pro Tools Certifications, music production courses, or post production courses. The company's mission statement emphasizes the accelerated and personal experience:
"AudioGraph International's mission is to provide its students with the most accurate, up-to-date, and quality Audio Engineering accelerated programs, with an emphasis in Pro Tools training in an intimate and educational environment where students get empowered by acquiring valuable information applicable to the real world and creating confidence in themselves."
Visiting the website, you can get a feel for the small, informal, and familial style of the AGI education. Even though this is a small operation, it has been around since 1993, so it seems to be established in its niche.
With these smaller trade schools in Santa Monica, you'll want to investigate for yourself and have a clear picture of the financial risks and opportunities.
We're on to the boot camps. General Assembly Santa Monica offers 12-week boot camps with the aim of getting you hired in your new career by the end of the course.
They have four intensive tracks, although you can set a slower pace with three of these tracks if preferred:
Data science
Digital Marketing
Software Engineering
UX Design
As usual, coding boot camps require a lot more scrutiny than the accredited programs at places such as Santa Monica College.
You'll want to be aware of common boot camp lending practices that emphasize paying the boot camp back later (sometimes with a portion of your salary). While you don't have to pay anything at the time, you can end up paying an exorbitant amount in the future, and you won't even have an accredited degree.
It's totally fine not to have a degree if you land a great job, so that's what you need to ask hard questions about. How many graduates are getting jobs as soon as they complete the boot camps? And how much are these jobs paying?
The good news is that General Assembly is fairly reputable as coding boot camps go, but here's a warning from a hiring manager on Reddit who sees a lot of GA applicants:
"I would say 90% aren't ready for the heavy lifting at my highly boring subject-matter-wise and very information-architecture-heavy IT/UX firm. It's frustrating because I know these people paid so much money for these courses."
In the manager's full review, it's not the quality of education that's slammed. There's just only so much you can learn in 12 weeks, and sometimes the prices do not justify the career benefit.
Hack Reactor is another coding boot camp with a good reputation as coding boot camps go. The same warnings about considering the price still hold true.
Another challenge with boot camps is that with increasing boot camp popularity, the supply-demand curve is shifting as more and more boot camp graduates flood the markets in Los Angeles and elsewhere.
Unlike General Assembly, Hack Reactor focuses exclusively on software engineering, also offering one course with a Javascript and Python emphasis.
Product School Santa Monica
This small school on Santa Monica Avenue trains businesspeople in product management, and has garnered good reviews on Yelp.
theCoderSchool isn't a coding boot camp, but instead a company that holds camps for kids to teach coding. theCoderSchool accepts students from 7-18 years of age for its camps.
We're focusing more on adult technical centers here, so we'll let you dig into this further on their website.
All right, let's move on to greener pastures with the best beauty and esthetician schools in Santa Monica.
Best Beauty and Esthetician Schools in Santa Monica
Founded in 2005, LA Lash Academy claims to "work with several salons that are constantly looking for LA Lash Academy Graduates to join their team".
The program length? A lot shorter than the eyelashes you'll be working with. The LA Lash Academy Masterclass is only two days!
In that time, they cover:
Language of Lashes
Styling
Hands-on Practice
Students who don't feel confident in their lashing skills can go back to a second Masterclass for free.
The bad news is that the price per day is a shocking $1199. LA Lash Academy may offer a good program and job placement, but we're not convinced the price is worth it.
Marina Granger Beauty School
It's unclear if this beauty school is still open for students or not.
Microblading Training & Permanent Makeup School
Located at 2150 Colorado Ave Suite #101, it's also unclear if this school remains open.
The Sassoon Academy Cosmetology program prepares students to own their own salon or work in one, studying at a school with more than 50 years of experience teaching cosmetology.
Their training claims to include all the necessary aspects of running a salon, including:
consultations
cut and color
finish and product recommendations
These three core aspects are covered for common male and female hairstyles. Their Facebook page has high praise, but you'll want to investigate this school yourself.
Best Acupuncture Schools in Santa Monica
If you're interested in earning a license in acupuncture in Santa Monica, this is the school for you. The Emperor's College of Traditional Oriental Medicine ranks as the best acupuncture school in California, and recent graduates boast a 100% pass rate on the California Acupuncture Licensing Examination (CALE).
Not everyone lives in Santa Monica and wants to study acupuncture. For those who do, the Emperor's College of Traditional Oriental Medicine is the place for you.
Best Art Schools in Santa Monica
Welp, this Art Institute still has locations open in several U.S. cities, but they closed down the one in Santa Monica.
There is a great (and fairly expensive) art and design college near Santa Monica that we've highlighted in our review of Santa Monica colleges.
Best Aviation and Pilot Schools in Santa Monica
Kelar Aviation and Justice Aviation
Kelar Aviation formerly had a training program that ran through Justice Aviation, but Justice Aviation has since closed due to a lawsuit with the city, leaving only one option available, the Santa Monica Flyers.
Today, Santa Monica Flyers is the only choice we know of for students wanting to earn a license in Santa Monica. The good news is that this is a professional and expansive operation.
Santa Monica Flyers offers a 20-hour sport pilot license, as well as three others:
Private Pilot
Instrument Rating
Sport Pilot Instructor
Their website does a great job of providing information on the various classes, so take a look for yourself!
Best Culinary Schools in Santa Monica
The Gourmandise School offers a wide variety of cooking classes, from hands-on lessons for how to cook specific dishes, to classes on the business of food for restaurant owners and managers.
It does seem that this school is more focused on commercial classes for the general public (as a hobby), rather than being a structured program with certifications and accreditation.
For the purposes of landing a job, the next option might be better, and the next option is unique among trade schools in Santa Monica by being free!
With the motto of "Hope Through Empowerment", the St. Joseph Center offers great opportunities for local residents to improve their job skills. One of these is the Culinary Training Program.
This is a free, 12-week course prepares students for food service jobs, including:
hands-on classroom training
a restaurant internship program
Over the past decade over 75% of program graduates have landed jobs, and with a price of $0, students don't have to take a financial risk to try the program.
La Varenne Culinary School (CLOSED)
According to the school's website, "École de Cuisine La Varenne was founded in Paris in 1975 by British-American food writer and cooking teacher Anne Willan."
Unfortunately, this school is now closed.
Best Drama Schools in Santa Monica
The two year conservatory program leads to an Associate of Occupational Studies (AOS) degree.
The American Academy of Dramatic Arts has campuses in New York and Los Angeles, and the L.A. location is just a few miles from Santa Monica. The academy boasts of a storied program in a storied location:
"As soon as you arrive, you will be surrounded by entertainment history—and history in the making. Our campus is adjacent to Hollywood's first movie studio back lot, where legendary actors, producers and directors still produce hit TV shows and films on a daily basis."
While the school is well-established, it's important to consider the costs and ask questions about the outcomes. You're looking for hard numbers like employment percentage, wages, and financial aid.
Best Massage Schools in Santa Monica
a2z Health Massage Schools operate in a number of cities around America, including in Santa Monica.
a2z offers a hands-on Massage Therapy Diploma Program, allowing students to find work in places such as hospitals, clinics, spas, health clubs—or to open their own private practice.
Their classes cover the following areas:
Deep Tissue
Advanced Anatomy
Shiatsu
Hot Stone
Reiki
Pregnancy and Infant Massage
Advanced Nutrition For Massage Therapists
a2z massage programs include a 550-hour certified massage therapist program, a 1000-hour holistic bodywork practitioner program, and a physical therapy aide program.
Best Ultrasound Schools in Santa Monica
With a location less than 10 miles from Santa Monica, the West Coast Ultrasound Institute actually has quite a few medical career training programs.
WCUI's Sonography and MRI programs "are designed to give you real-world knowledge and skills with the newest procedures and medical protocols that you will use in the field. More than that, they are designed by medical professionals to help you build a career with a strong job outlook, high earning potential, and the opportunity to contribute to the healthcare industry."
Let's break down their degree programs by the level of education required:
Bachelor of Science in Diagnostic Medical Sonography
Bachelor of Science in Diagnostic Cardiovascular Sonography
Academic Associate of Science in Diagnostic Medical Sonography
Academic Associate of Science in Cardiovascular Sonography
Academic Associate of Science in Diagnostic Vascular Sonography
Academic Associate of Science in Magnetic Resonance Imaging
Magnetic Resonance Imaging Diploma-Short
Pediatric Cardiac Ultrasound and Congenital Heart Disease
WCUI is accredited by the Accrediting Commission of Career Schools and Colleges (ACCSC). It's a legit education, but it's always worth shadowing a class and asking for employment and salary statistics for program graduates.
Deciding Between College and Vocational School
Earning a college degree has the advantage that degrees can be valuable in almost any career, as some jobs require a B.A. or B.S. without stipulating any specific major.
Accreditation also means that there's a higher standard of quality for accredited degree programs.
On the other hand, disruptive education companies can sometimes offer a better education without all the red tape of accreditation.
The difference is that you as the student have to research the company's reputation, and whether the education will be worth the cost or not—and that holds true for the trade schools in Santa Monica.
Your chosen career may also determine whether college or a vocational school is a better fit for you.
Conclusion
As you can see, trade schools in Santa Monica offer a wide variety of potential careers and training methods.
We hope this will provide some clarity as you explore different careers and education providers, and we wish you the best in your journey.