10 Engineering Scholarships for Women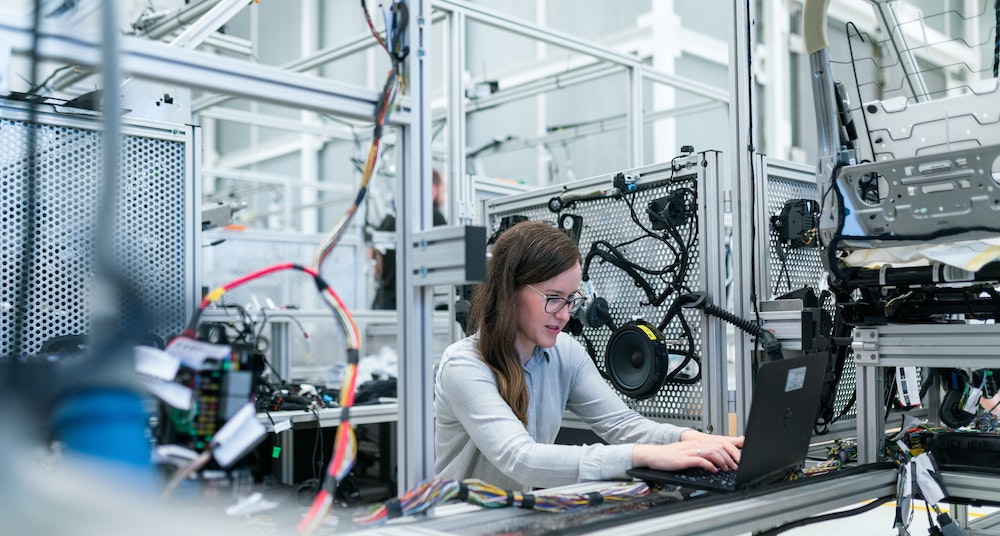 Engineering scholarships for women are a great way to fund your college education, and we have great news for you. We've found more scholarships for female engineering majors than for any other major! In addition to the ten great scholarship providers listed here, women in engineering also qualify for STEM scholarships, so you should also check out our article listing 17 STEM scholarships for women here.
Together, these scholarships offer an amazing opportunity to pay those daunting tuition bills. These ten engineering-specific scholarships have the additional advantage of narrowing the applicant field further so you have a higher chance to win. As always, we recommend checking for local scholarships too, as these will give you even more of an edge. We've got you covered with 8 ways to find those local scholarships here. For example, The Rossiter Family Scholarship is an excellent engineering scholarship for women residing and studying in Massachusetts.
Our list of engineering scholarships for women will include some scholarships available to all engineering majors, while others are geared toward a specific major within engineering. However, all of them are available nationwide, so we hope you can find a few that fit your college and career goals!
Engineering Scholarships for Women
Since 1979, the ANS has given out over $5 million in scholarships. Incoming freshmen in any STEM field can apply for $1,000 awards as long as they have "an interest in working in nuclear science and technology". The amounts go up for upperclassmen and graduate students (up to $5,000). However, students must be following "a course of study relating to a degree in nuclear science or nuclear engineering at an accredited university in the United States", and these upperclassmen scholarships also require sponsorship by an academic advisor from an ANS Student Section or Alpha Nu Sigma Chapter.
The application process is comprehensive and includes a personal statement based on a prompt that varies from year to year. The latest prompt reads, "Describe in 500 words or less what made you choose a career in nuclear science/engineering/technology. Address the following questions in your statement: In what aspect of nuclear science/engineering/technology do you plan to concentrate, and why? How do you see yourself making an important contribution through your work, and why?"
This scholarship application takes a lot of work, but ANS does give out scholarships to multiple winners in each scholarship category. If you have an interest in nuclear engineering, this scholarship is a great choice.
The American Railway Engineering and Maintenance-of-Way Association has eight scholarships available, although only three of them are available nationally. One bonus is that students can be from any engineering or engineering technology major. Most scholarships are for $1,000, but they do select multiple winners each year.
A 350-word essay is part of the application, "explaining why the applicant believes he/she is deserving of an AREMA Educational Foundation Scholarship. The applicant should indicate areas of railroading which might be of particular interest (freight, signals and communication, computers, passenger and transit, bridges and structures, geotechnical, environmental, rail construction, or other) and describe how his/her attributes relate to these areas."
The American Water Works Association offers an impressive 17 scholarships for college students in related engineering majors! The awards range from $1,000 to a renewable $30,000 award, and several of the scholarships are only available to female or minority scholarships, including the $10,000 Holly A. Cornell Scholarship for graduate study.
With generous scholarship amounts and plenty of scholarships to choose from the AWWA offers some of the best engineering scholarships for women in America.
Brown and Caldwell offers $5,000 scholarships available only to female students majoring in "civil, chemical, mechanical, electrical or environmental engineering or one of the environmental sciences (e.g. geology, hydrogeology, ecology)."
They require a 3.0 GPA, letters of recommendation, a resume and an essay of at least 250 words based on the prompt, "Tell us about a personal experience that influenced your decision to focus on environmental studies."
This is a great scholarship opportunity that is open to any engineering major, and $5,000 can make a big dent in your tuition bills!
The Institute of Industrial & Systems Engineers offers 19 different scholarships for engineering students at all postgraduate levels. Four of these scholarships are specifically offered to women and minority students. IISE's goal is "to recognize graduate and undergraduate industrial engineering students for academic excellence and campus leadership." Awards are for up to $4,000, so take a look at the website to see if you might qualify for any of their various scholarships.
An education scholarship program for women enrolled in an accredited college or university and majoring in a discipline relevant to entering the hydropower industry. The scholarship will be based on merit and financial need.
The application includes several written responses discussing extracurricular activities, why the scholarship is important to you, any unusual circumstances, and a response to the following prompt.
"Julie Keil promoted hydropower as a renewable energy technology and a responsible steward of the
nation's water resources. Through her leadership, courage and strength, she helped bring disparate and
often dissenting individuals together to work towards common goals. Her keen negotiating skills helped to
create outcomes that reflected fair dealing and the intricate relationship among engineering, the
environment and economics. She brought uncommon energy, persistence and enthusiasm to all her efforts
on behalf of the industry. How do you feel you emulate these characteristics and how will you put those to
work within the hydropower industry?"
This is another great opportunity for female engineering students with an interest in hydropower.
The scholarship is given to "a woman studying any engineering field at a top-tier technical undergraduate or graduate university program in the US", and is worth over $2,000.
Applicants are also considered for job opportunities at Markforged in manufacturing. Any woman studying engineering can apply, but "candidates who have demonstrated excellence in cloud computing, material science, industrial design, 3D printing, manufacturing, etc. will be given preference."
Among other requirements, applicants must respond to the question, "If you had an unlimited budget, how would you use the funds to further your projects that are already underway, or for future STEM-related projects?"
SME, previously known as the Society of Manufacturing Engineers, offers scholarships to students "pursuing two-year, four-year or graduate degrees in manufacturing or engineering". Applications open in November and close on February 1st, and one application allows students to apply for all of SME's many scholarships. They have an impressive 52 scholarships available for undergraduate students, though many of these are location-based. TheLeanna Dorworth Memorial Scholarship andLucile B. Kaufman Women's Scholarship are both available only to women.
While some of the scholarships require you to have a strong interest in manufacturing, others are open to all STEM majors, so it's worth looking through the list and seeing if there are any scholarships you'd like to apply for. If you find one only offered in your region, even better!
This is what we've all been waiting for. The Society of Women Engineers dominates engineering scholarships for women. Each year, SWE distributes over $1,000,000 in scholarship funds through over 260 different scholarships—and all of these scholarships are available exclusively to women!
Awards are generally worth several thousand dollars and some are also renewable. SWE's website has a very useful list and search feature that gives clear descriptions of the scholarship as well as plenty of ways to filter the results, so you can quickly find the scholarships that are the best fit for you.
These incredible scholarships are available to female students in any engineering major (or even computer science), so there's something for everyone. Quite simply, if you only complete one scholarship application, it should be with the Society of Women Engineers.
We're narrowing back down for our final scholarship opportunity, as this one is only available for doctoral study in aerospace engineering. The $10,000 fellowship is given to up to 35 women in aerospace engineering and space sciences, so if you do qualify, you have a good chance of winning and receiving that big prize!
Zonta boasts that "since the program's inception in 1938, Zonta has awarded 1,674 Amelia Earhart Fellowships, totaling more than US$11 million, to 1,245 women from 75 countries." Their fellows have become "astronauts, aerospace engineers, astronomers, professors, geologists, business owners, heads of companies, even Secretary of the US Air Force".
We hope this article helps you to earn some sweet scholarship money to achieve your educational and career goals! You can check out this article on how to find great scholarship matches using the best scholarship search engines, or take a look at all of our scholarships here.
And don't forget that engineering puts the E in STEM! Any woman in an engineering major will qualify for these great STEM scholarships for women.