Diagnostic Medical Sonography Programs and Schools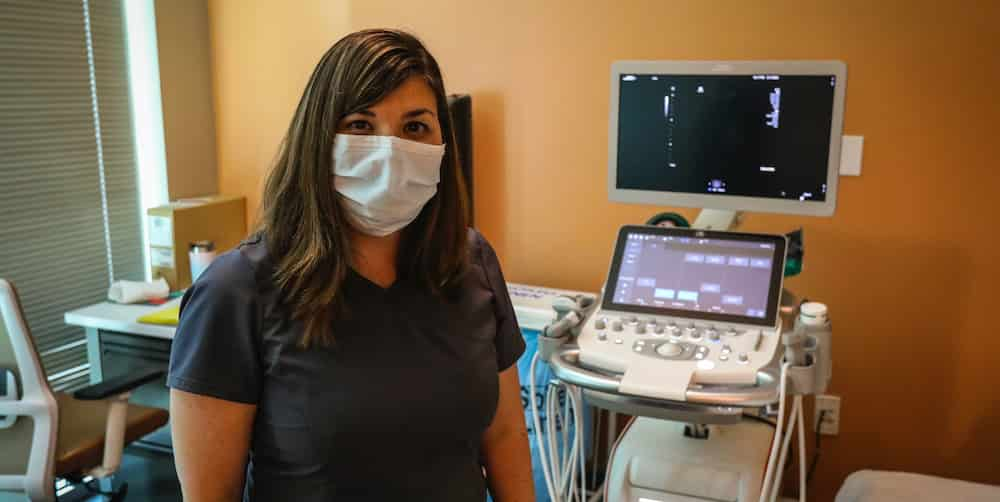 Diagnostic Medical Sonography Programs and Schools
We're here to give you the scoop on how to find the best diagnostic medical sonography programs and schools! First, we'll give a quick overview of what sonographers do and what education is needed.
You may also be interested in our review of how to become an X-ray technician. Both careers require two years of college and have a lot in common. Diagnostic medical sonography often pays better, but can also be more mentally and physically demanding.
What is the role of a diagnostic medical sonographer?
According to the Mayo Clinic, diagnostic medical sonographers use "imaging equipment and soundwaves to form images of many parts of the body, known as ultrasounds. They are trained to acquire and analyze these sonographic images."
The Mayo Clinic explains that the scope of a diagnostic medical sonographer's work will include:
Operating imaging equipment, and reviewing images to be sure they are of good quality and helpful for diagnosis
Identifying normal and abnormal imaging results, communicating a summary of the results to physicians or other health professionals, and alerting physicians to urgent problems
Preparing patients for procedures and educating patients throughout the ultrasound exam
Reviewing patient medical history, recording imaging results in patient records, and coordinating care with various departments within the hospital or clinic
Is diagnostic medical sonography a good career choice?
Diagnostic medical sonography offers a solid return on investment, with the potential for a competitive salary with only two years of college schooling.
However, diagnostic medical sonographers have to be on their feet a lot, and are directly involved in patient care (interacting with many patients daily). If you don't enjoy the work environment, this could impact both your job satisfaction and your work performance.
Is sonographer the same as ultrasound tech?
A sonographer, and specifically a diagnostic medical sonographer, is usually not the same job as an ultrasound tech.
This is despite the fact that sonography and ultrasound have essentially the same meaning. Sonography refers to the whole technology of ultrasound, while ultrasound may sometimes be used just for the process of taking an ultrasound, or the results of an ultrasound.
So what's the difference between sonographers and ultrasound techs? According to Smith Chason College, "Ultrasound or sonography technicians often have a diploma and aren't board registered, while those who are board-certified and have at least two years of college education often work as a":
Sonographer
Medical Sonographer
Diagnostic Medical Sonographer
Cardiovascular Sonographer
Echocardiographer
Ultra-sonographer
Ultrasound Technologist
As you can see, there are different types of sonographers. When deciding on a career path within sonography, you should consider more than just the money. But hey, you should at least consider the money, and that leads to our next question.
Can sonographers make six figures?
Depending on your specialty within sonography, yes, you can make six figures as a sonographer. However, only one of the sonography specialties averages six figures.
What type of sonographers make the most money?
Of the many types of sonographers, neuro sonographers make the most money. According to Zippia, the highest paying sonography specialties are as follows:
Neuro (brain) sonography: $112,000
Pediatric cardiac sonography: $80,000
Cardiac sonography: $79,000
Vascular sonography: $68,000
Ob/gyn sonography: $68,000
With a significant jump up to neuro sonography, neuro ultrasound techs far outclass the other technician jobs in terms of average salary.
What are the requirements to become a sonographer?
The most common path to become a sonographer is to earn a two-year degree in sonography. After completing your course of study, you'll need to take and pass American Registry for Diagnostic Medical Sonography (ARDMS) board exams. According to the r/sonography subreddit:
"There is no difference in pay between certificate, associates, or Bachelor degree programs in sonography – as long as your program allows you to take the ARDMS board exams at the end, they are all considered equivalent by employers."
How to Become a Diagnostic Medical Sonographer
The first step to become a diagnostic medical sonography program that qualifies you for ARDMS board exams.
The location, cost, and reputation of the college are all important factors here.
Diagnostic Medical Sonography Programs and Schools
The best diagnostic medical sonography programs and schools are often (though not always) fit into one of two categories.
The first category is highly-ranked universities that are known for their biology and health-related fields.
If you go down this path, don't let them convince you to go for a bachelor's degree. Unlike with most careers, there's no real career advantage of earning a 4-year degree for diagnostic medical sonographers.
The second category is community colleges. While some people may look down on community colleges, community colleges may have excellent programs in two-year programs such as diagnostic medical sonography.
The easiest way to find high quality, accredited programs is to search the interactive database of diagnostic medical sonography programs and schools accredited by CAAHEP.
For example, schools offering CAAHEP-accredited associate's degrees in sonography in Pennsylvania include:
Community College of Allegheny County-Boyce Campus
Great Lakes Institute of Technology
Harrisburg Area Community College-Harrisburg Campus
Lackawanna College
Mount Aloysius College
Northampton Community College
Pennsylvania College of Health Sciences
Pittsburgh Career Institute
Not every college is accredited for every specialization within diagnostic medical sonography. For example, the only associate's degree accredited by CAAHEP in pediatric cardiac sonography is Alvin Community College in Alvin, Texas.
Is studying to be a sonographer hard?
Yes, studying to be a sonographer is an intensive and difficult process. As you might expect from a 2-year program with relatively high median wages, becoming a diagnostic medical sonographer is difficult.
Of course, this isn't to keep you from studying to become a sonographer. However, it may be difficult to work part-time or take care of kids while in a sonography program.
You can ask your prospective college (or even better, students in the program) for more details about the program's demands.
Is being a medical sonographer hard?
According to Redditor u/sonographeratlarge, "I do enjoy performing quality work that helps the lives of patients. However, the profession is not well respected and the work is mentally an often physically demanding."
The sonographer continues with an illustration of a typical morning at work:
"Most people who don't perform sonography do not understand that we are continuously making decisions on the fly. Your brain and hands are in a constant feedback loop every moment as you assess the anatomy sweeping by on the screen. And every movement of your hand, the precise angle you hold the probe, how much or little pressure you exert, affects how accurate and complete the result will be.
"This can be stressful even under ideal circumstances, but as often as not, you'll be in an undersized room overheated by a machine that's 3 generations behind the times to do a full abdomen on an obese, delirious, unprepped gassy patient.
"Being a professional, you'll do your best, even though that means twisting your body like a contortionist in a circus act, craning your neck around like an owl to see the piece of junk screen that mostly shows Rorschach tests, dripping sweat under your scrubs as you stretch your arm across the squirming girth of your patient while you struggle to get good images. Oh, by the way, they just added three more to the queue this morning, so forget that lunch break."
Medical sonographers are pretty low in the medical hierarchy, despite having a job that requires a lot of training, skill, and mental and physical exertion each day.
However, the demands of the job lead to the above average salaries, especially for just a 2-year education program.
How long does it take to become a sonographer? And how long are most diagnostic medical sonography programs?
Most diagnostic medical sonography programs last two years, although students with previous medical education can take a shorter certificate program (usually one year).
You can also earn a bachelor's degree in sonography, but it doesn't do much for your pay or career prospects compared to an associate's degree.